Dec 26, 2008
Dana Kuller, class of '65, invites us to help celebrate the life of her mother, Mabel Clare Macbeth Houdyshell. On January 17, 2009, there will be a memorial service honoring her life at the Orange Coast Unitarian Universalist Church in Costa Mesa at 10 AM. For more information and to RSVP click here. Mabel served as the school nurse for Rancho for eight years until 1973. She slipped away on August 10th of 2008 after a lifetime of accomplishments.
Dec 20, 2008
Jim - Hope your day is special and you are celebrating in some fun exotic place!


Dec 19, 2008
Walt and Marti Unger are celebrating their fourth wedding anniversary today. We wish you a Very Happy Anniversary Marti and Walt!


Dec 5, 2008
Janet (Bessa) Buell is loving her time on the Grand Jury! Janet writes:
The people are fun and it is always interesting. We've done 21 criminal indictment hearings so far and our first big investigative report (on Orangewood Children's Home, the County's home for abused and abandoned children) will be out in about two weeks.
The reports are all posted on the County's website (http://www.ocgrandjury.org/) as they are issued along with the responses received from the agencies and government officials who are given recommendations in the report. I was the primary author on this one so if it is controversial (and it will be), I will enjoy seeing the responses.
Nov 18, 2008
Barrie and Jan Smith just returned from a romantic cruise on the Mexican Riviera. They enjoyed hanging out together and meeting some great people! While passing through Southern California they also took the opportunity to visit some old friends and classmates Walt and Marti, Betty Barry, Janet Buell and Mike Lewis.

For Cruise Photos Click Here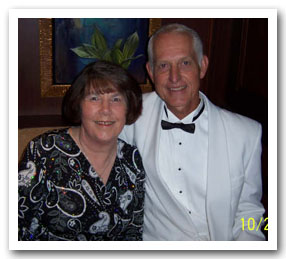 Nov 11, 2008
Bill and Lois Curren are back from their eleven days of R & R in paradise! They had a beautiful view of Diamond Head from their top-floor "deluxe ocean front" room. Bill could hardly wait for the grass skirts - we hear he took his lawnmower!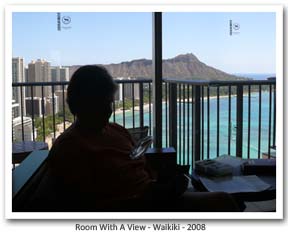 Oct 17, 2008
Walt and Marti Unger are back from their month long trip in England. They had a marvelous time: great people, delicious food, wonderful hospitality and awesome cathedrals, castles, manor houses, museums and scenery. They also had a great visit with Peggy (McFadden) Smith and her husband Richard, a Cambridge University professor. Peggy and Richard live in Clare. Welcome back Marti and Walt - we missed you! Did you "mind the gap"?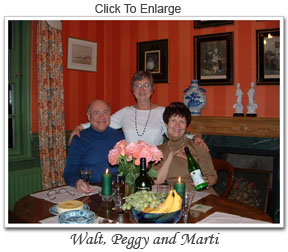 Sept 25, 2008
Barrie Smith and his brother just returned from a 5 day bicycle trip along Idaho and Washington rails to trails. They were doing 70 miles in about 5 hours. Move over Lance!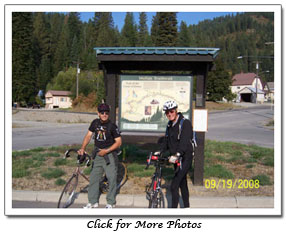 Sept 21, 2008
If all is going according to plan, Walt and Marti Unger are celebrating Marti's birthday "across the pond" in the Peak District National Park in England with a visit to Chatsworth House on September 20th and a visit to Haddon Hall on September 21st. They are also planning a visit with Peggy (McFadden) Smith and her husband Richard. Can't wait to hear about your trip Marti and Walt!
Sept 8, 2008
Lois and Bill Curren are celebrating the occasion with a road trip back east (i.e. TN, VA, WV, and KY), then back home for a minute to dump the coats and pack the bikinis and hop on a plane to Waikiki, then...
August 14, 2008
Classmate Jim Currie will be performing on the drums with a jazz trio at Jason's Restaurant on 4th Street near Ross (near the downtown Santa Ana Civic Plaza) this Saturday and one Saturday every month. If you're in the neighborhood, stop in! Band plays from 7:30-11:00.
August 10, 2008
Dana (Houdyshell) Kuller, class of '65 writes:
Our mother, Mabel, slipped away today at 12:25 PM Aug. 10th at the Veteran's Hospital in Long Beach. She had a state-of-the-art room with a 4-star view overlooking Long Beach, where she and Dad had started their family in 1946, right after WWII. She died a peaceful death, after a lifetime of accomplishments.

Mabel Houdyshell was the school nurse at Rancho for many years. Our hearts go out to you and your family, Dana!
July 9, 2008
Today we are saddened by the loss of our beloved teacher, coach, and friend, John Callard. After many ups and downs he passed away peacefully this morning with his wife Barbara at his side. He will be missed! Our hearts and prayers go out to Barbara, his loving wife.
June 26, 2008
Ronnie Guyer (class of '60) forwarded info regarding a new documentary premiering on the Discovery Channel called "Fight or Die". It's a documentary special that captures the personal experience of war from the point of view of the soldiers under fire. You can read more about it here
June 22, 2008
Barbara reports that John has had a "roller coaster week" but she is encouraged by his progress. She writes: "We are grateful for your prayers and know that God is using his healing power to help John improve each day. We love the cards and emails. I read them to him every day."

John has been hospitalized at South Coast Medical Center in Laguna Beach since May 25th, and he is still recuperating there. Cards and flowers can be sent to John Callard (patient), c/o South Coast Medical Center, 31872 South Coast Highway, Laguna Beach, CA 92651
June 7, 2008
Barbara Callard reports that John has been in ICU at South Coast Hospital. Each day he is progressing a little. The Doctors say it will take time. It looks ok, but he is not out of the woods. Barbara says, "The most important thing is to keep him in your prayers. God has the healing power."
May 31, 2008
We heard from the "grapevine" that Jim Currie's "gig" went well. He did great! Many of his tennis friends turned out and they all enjoyed his performance quite a bit. Jim says "I was relieved and pleased and enjoyed performing, again..but not enough to actively seek out more gigs..if I get called, I'll play...but it's not such a big deal to me anymore. I enjoy the social aspect (and I'm still a bit of a ham)...and the extra money is always nice, but nothing more to prove (mostly to myself)." Thanks for the picture, Linda!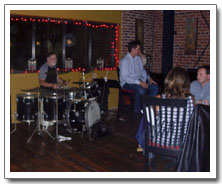 May 26, 2008
On May 26th Barbara Callard writes: "We had a bad day yesterday. John fell down about 7 steps and broke 4 ribs and has a hairline fracture on his left hip. He will have surgery sometime tomorrow. The Dr. said it is the best of the worse hip fractures. He will have three screws to hold the femur together near the ball at the top. Dr. said 90% of those with this type of fracture have a full recovery. Keep him in your prayers."

Please send cards and flowers to John Callard, c/o South Coast Medical Center, 31872 Coast Highway, Laguna Beach, CA 92651. South Coast Medical Center Tel: (949) 499-1311 www.southcoastmedcenter.com/content/ Or for his home address, please contact us.

John Callard was one of our favorite math teachers in the '60s and we were all delighted to see him at the Golden Anniversary Celebration. Get well quick Mr. Callard!
May 17, 2008
Rancho's Golden Anniversary Celebration on May 17 was a great success! Thanks to all who were involved in planning the celebration - especially Jason Lupei - RAHS Golden Anniversary committee chairman & history teacher. For photos of the event, click here. To contribute photos, add comments, make corrections, additions, etc. please contact us.
Happy Birthday Rancho!
All RAHS Graduating Classes are invited to attend the RAHS Golden Anniversary on May 17th. Please RSVP for the 50th Anniversary Celebration by going to the RAHS web site: ranchoalamitoshs.org ...and click on the link for the 50th Anniversary Celebration Sign-up. Hope to see you there!
Walt Unger Reports That...
Classmate Jim Currie will be performing on the drums with a jazz trio at Jason's Restaurant on 4th Street near Ross (near the downtown Santa Ana Civic Plaza) on May 31st. Jim says, "I'm told from a trusted source that the pianist is a monster player (Jeff Jones). We will be backing a young Sinatra-style singer. Band plays from 7:30-11:30. If you want to pass on the info to other Rancho people who are local, it would be great to stack the place with friends."
February 16, 2008
Walt and Marti Unger hosted a small gathering of classmates at their home in Laguna for the benefit of Barrie Smith (class of '62) and his wife Jan, who came down from Idaho for a visit. There was a good turnout and everyone had a great time. It was fun to get re-acquainted with old friends, some who have been hiding out for forty six years! Thanks to all who contributed photos! Check out the photo albums here.
SPECIAL EVENTS - MEMORIES
CLASS DIRECTORY (MEMBERS ONLY)