John Callard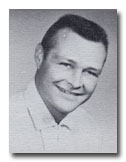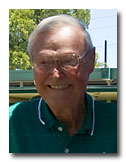 1929 - July 9, 2008 Mathematics Teacher and Football Coach
A Tribute To John By His Wife, Barbara:
John Callard, my husband, my soul mate, my best friend.

Little did I know when I wrote in my Yearbook in 1964, "I will long remember Mr. Callard," did I realize how true those words would be!

For 35 years we shared a life filled with joy and love. How I looked up to him! He was so accomplished at all he did. He was a great teacher, an exceptional coach, a loving father and grandfather, and a devoted husband. And he loved to have a good time! Yet, he was a quiet, humble man. In fact, at the Rancho 50th Anniversary, he was taken back when he was referred to as a "Legend"...he never saw himself as the exceptional person he was. He did what he did from his heart.

He was a man of integrity who accepted each of us for who we are. He rarely, if ever, even criticized another football coach. John was kind, patient and optimistic. He had two favorite saying, "Don't worry about something that may never happen," and "You have to be flexible."

You may ask what did I learn from John after all of these years? I learned:

When you put a pencil behind your ear, put the eraser back first. That way you are ready to write.
Never correct papers in red ink...that's Garden Grove colors...always use green.
As far as playing cards, always know when to hold them and when to fold them!
It is not illegal to make a bet, only to book one.
50 Yard line seats are not the best; you can't see the line play.
When the linemen stand up, it will probably be a pass.
Look carefully at the full moon and you can really see the "man in the moon".
You are never too old for butterfly kisses.
Best vacation spot - Honokeana Cove in Maui
Best song - Marine Corps Hymn
Friendship is invaluable.
Family is forever.
Unconditional love is the essence of life.
Love the Lord, He will guide and comfort us.

John did love the Lord and his walk with Him became stronger each year. He is probably doing some detention or running laps right now for some of his earthly activities, but it is comforting to know that we will be together again some day.

What an honor it was for me to share my life with such an incredible human being. Even though John said that he couldn't promise me a rose garden, our life was a bouquet of roses of every variety, with days full of living and there are no empty yesterdays, only tons of wonderful memories.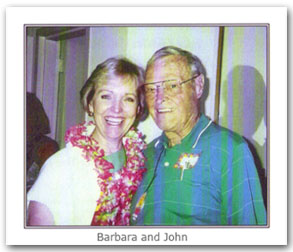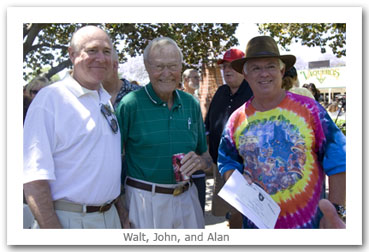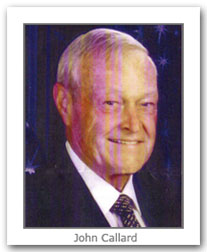 The following was taken from an article in the Orange Country Register written by John's son Chris:
John Callard's family, like many others at the time, came to Long Beach from Iowa in the 1920s, and he was born in the last year of the decade at Seaside Hospital. He grew up as an athlete, and was a football standout at Long Beach Poly High and Long Beach City College (where he was a member of the national champion Junior Rose Bowl team of 1950).
Serving his country for three years as a U.S. Marine in the mid-'50s, he was stationed in Japan where he was a sergeant, and leader of the Corps' football team. Back home, he joined the inaugural staff at Rancho Alamitos High School in Garden Grove, spending his career there coaching football and teaching his other passion, mathematics.
Actually, he had a number of passions in which he reveled. Among these were: chocolate, golf, a deck of cards at a casino table, BLTs with homegrown tomatoes, an ocean view, Fritos, vacations in Hawaii, red wine and champagne brunch, hamburgers with extra sauce, keeping a notebook of stats for his many wagers (combining that beloved duo of sports and math), paying his grandkids good money when they did well on their report cards, (doing anything, in fact, with his grandkids), looking for the odd stock that might hit the jackpot, and football (did we mention football?).
He gave moral support to his sons in everything they did. He met, knew and touched so many people. He was a mentor and influence for countless students and players over the decades. In retirement, he continued teaching math at Saddleback College where he was named Adjunct Professor of the Year.
He lived in Dana Point for more than 30 years and relished gazing at the Pacific from his deck, and much more than that, shared the view and everything else with his soul mate, Barbara. He was also a member of South Shores Church in Dana Point. He had a special affection for Long Beach, Garden Grove and Dana Point.
Easygoing, happy and smart, John truly enjoyed life. And a grand, fine life it was. John Callard is survived by his wife, Barbara; his sons, Chris and Jeff; six grandchildren, and one great-grandchild.