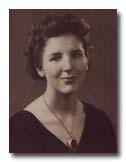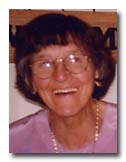 1921 - 2008 School Nurse
Dana (Houdyshell) Kuller (RAHS65) offers the following brief history of her mother, Mabel Houdyshell:
Mabel was quite the female pioneer in her day. She inspired both my sisters and I with her strength and determination.
Mabel was an Army Nurse Lt. in WWII, stationed in England. She was discharged in 1945, married Ray Houdyshell, who she had met in the Army in 1946, and had five children (all attended Rancho). She graduated from UCLA in 1954 with a Master's of Science Degree. The family moved to Garden Grove in 1955. Dad commuted and worked for LBUSD as an elementary school principal.
Mom began as a school nurse at Wakeham Elementary School in 1955. She also worked at Bixby/Enders and Skylark Elementary Schools. She moved to Marie L Hare Jr. High as the nurse from '62-'64. In '65, she "graduated" to Rancho Alamitos High School and worked there for 8 years until 1973. From there she earned her Pediatric Nursing Practitioner's license, did health team assessments, taught Adult Ed - Safety, CPR, and First Aid classes while continuing to work in various schools in the district. She retired in 1985 but continued working as part of the Hearing, Vision and Scoliosis Screening Team until 2005.
Mom currently is on a Senior Forum to improve transportation in GG (spoke today as citizen rep. at Methodist Church), is touring and evaluating homes for GG Home Tours, on Advisory Bd. at Westminster Senior Cntr. an active member in AAUW and.... she'll be 87 on June 10th :)
Over the years, her work for Garden Grove Coordinating Council, AAUW, Senior Citizen Centers, United Way, and California School Nurses Association (to name a few) earned her the honor of Garden Grove's "Citizen of the Month" twice and a recipient of the "Silver Spoon" Award in 2005.
On January 17, 2009, there will be a memorial service honoring the life of Mabel Clare Macbeth Houdyshell. Click here for the memorial service announcement.