December 31, 2011
2011 has zoomed by and our RAHS Class of '62 50th Reunion is fast approaching. If you haven't purchased your tickets yet now is the time. Reconnect with old friends and classmates - friendship is special - now more than ever!

We have added a few more classmates to the directory: Sharon Olline (Lindt) Flatbush, Gloria Jean (Bailey) Craven, Carolyn (Layton) Ponsford, and Carol (Barrillot) Pollino. We still have a lot of missing classmates - let us know if you're especially interested in someone in particular.

The directory link is: http://rahs62.org/directory/. Email us if you have forgotten the userid and password.

Check your inbox for the latest email update and see if you can win the game! If you missed or lost the email, you can also find it under the "What's New" link: http://rahs62.org/whatsnew/

Best wishes for a happy healthy 2012!
November 28, 2011
Beverly Johnson had many friends at Rancho Alamitos, and attended from 1959-61 before being transferred with the class of 1963 to Bolsa Grande. Beverly died Sunday, 20 November 2011 thus ending a two-year battle with Lou Gehrig's Disease. A funeral is tentatively set for Saturday, 3 December. We would like to extend our condolences to Beverly's family and friends.
November 6, 2011
On Saturday, October 29th, Danna and Darrell Willoughby hosted a Rancho Class of '62 barbecue at their beautiful home in Laguna Hills. There was a good turnout and after lunch we discussed exciting plans for our 50th Reunion Celebration next March. Click the "Pre-Reunion Potluck" link to see photos of the event.

We want to keep in touch. Janet Buell and the Reunion Committee will be sending out periodic newsletters with news and updates of our 50th Reunion and other activities. Please make sure we have your current email address. You can also find the most recent newsletter under the "What's New" link.
July 12, 2011
Class of '62, you are invited to a Pre-reunion Potluck BBQ at the home of Danna Hawley Willoughby on October 29, 2011. Please RSVP and tell us how many will be in your party and what you would like to bring. For more information, please CLICK HERE.

Another missing classmate, Charlene Metzger Kellogg, has been located. It is great to re-connect with you, Charlene - please keep in touch. We are still missing many classmates - please take a look at the missing list to see if you can help out with any clues.
June 4, 2011
Kenny Hedgpeth, RAHS class of '76, creator and webmaster for the Rancho All Alumni Class Website, organizer of the annual all alumni picnics, lover of nature and life and friend to all, passed away Friday, June 3, 2011, at 7:45 AM. His brother David Hedgpeth writes:

"Sad day today. Kenny Hedgpeth passed away at 7:45 AM today, Friday June 3, 2011. He had a stroke and his heart stopped 3 times on May 21, 2011. He had extensive brain damage from this. He was on life support. He could not breathe on his own. The family had to let Kenny go. This was hard for us to do. Kenny is in a better place now. I'm lost for words and I'm hurt."

There will be a memorial service for Kenny at the New Life Church of God, 1775 Hwy 50, Silver Springs, Nevada, 11:00 AM Saturday, June 11th.

There will also be a memorial service in Corona on Saturday, June 25, 11:00am - 7:00pm. (Please see address below):

Corona Cages
1148 California Ave
Corona, CA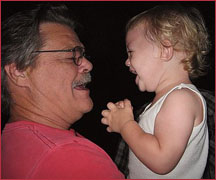 May 26, 2011
Thank you Marty Garisek for the heartwarming memories of Steve Mullins - class of '63, who passed away last year.
May 4, 2011
Mark Mosteller's wife Martha would like us to know that Mark died last week while camping at Joshua Tree National Monument of a massive heart attack. Mark taught science at Rancho Alamitos High school from 1960 to 1980. His memorial service will be held on Wednesday, May 11 at 10:30 a.m. at Garden Grove Friends church on Magnolia Ave. The address is 12211 Magnolia (between Lampson and Chapman.)

Our deepest sympathies go to Mark's family - he will be missed!
April 26, 2011
Danna Hawley Willoughby - RAHS class of '62, has been added to the directory and is looking forward to our 50th reunion in 2012. Let us know if you need the userid and password for the directory.

Check out John Conger's bio and photo album. If you haven't yet sent in a bio, please do! Looking forward to seeing you at the reunion in 2012!
March 21, 2011
Our dear friend and classmate, Scott Brown, passed away yesterday, March 20, 2011, at about 1:00P.M.

A memorial service is scheduled for Scott on Thursday, March 31, at 1:00 p.m. in the chapel at the Callahan Edfast Mortuary, 2515 Patterson Road, Grand Junction, Colorado 81505. For further information about this service, please call 970-243-2450 or send an email message to the attention of Abel at: info@cemgj.com

Contributions in Scott's memory may be made to the St. Mary's Hospital Foundation and mailed to 2635 North 7th Street, Grand Junction, CO 81502 with a designation the funds be used to help The Mesa County Spinal Cord Injury Support Group carry on in Scott's memory.

The Callahan Edfast Mortuary's website is located at:
http://www.callahan-edfast.com/

For many years, Scott has help countless people understand and benefit by the Americans with Disabilities Act (ADA). He has been a great inspiration to scores of people.

His older brother, Dave Brown, RAHS Class of 58, lives in Littleton, Colorado.

Scott will be greatly missed but never forgotten!

In addition, William C Nex passed away Feb 5, 2011. Bill was an elected member of our Rancho Alamitos High School Class of 1962 Cabinet and was our Pep Commissioner. We extend our sympathies to Bill's family for their loss (and ours).
March 17, 2011
Lucky stars above you,
Sunshine on your way,
Many friends to love you,
Joy in work and play,
Laughter to outweigh each care,
In your heart a song,
And gladness waiting everywhere,
All your whole life long!
HAPPY ST. PATRICK'S DAY!
March 6, 2011
In honor of our 50 year reunion in 2012, some of us are proposing a cruise on Sunday after the reunion. Our "cruise committee" (Cynthia Henderson Rardin and Bill Curren) has lined up a cruise on The Carnival Splendor. The ship leaves Los Angeles (Long Beach) on Sunday March 18th and is going to Puerto Vallarta, Mazatlan, & Cabo San Lucas, Mexico, returning on Sunday March 25th. This will be a great way to reconnect with old friends and classmates in a relaxed and fun setting. For more information, please see THE CRUISE PAGE under the 50th Reunion 2012 link.
January 22, 2011
It's hard to believe that another year has gone by - Happy New Year to all - hope that 2011 brings you good health, happiness, and maybe a little extra wealth!

Raymond Shallbetter, class of '62, and Richard Mather / Bates, class of '60, have been added to the directory. Ginny Mayton Harding has a new email address (if you need the password for the directory, please let me know). Thanks, Barrie Smith for finding Raymond. There is still a long list of missing classmates and we could use your help in locating them. We would love to invite all of our classmates to our Class of '62 50th Reunion and even if they are unable to attend, we would really like to stay connected. If you can help with the missing list, please contact us at info@rahs62.org.

Barrie has been mobilized again to New Jersey to help take care of our troups. Thank you for your dedicated service Barrie, to our troups and to our classmates!
SPECIAL EVENTS - MEMORIES
CLASS DIRECTORY (MEMBERS ONLY)