Steven H Mullins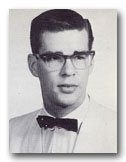 May 10, 1945 - June 26, 2010
Marty Garisek writes: I regret to inform you of the passing of Steve Mullins. He died June 26th from complications of pneumonia and Supra-nuclear palsy. There will be no service, he is survived by his wife Susan.
Do not weep, I am your memory of me...

REMEMBERING STEVE
by Marty Garisek
Steve Mullins (RAHS63) my best friend passed away on June 26th, 2010 and we, my family and I, decided a remembrance memorial was necessary because he had meant so much to us. Steve's connection is the key to our being a family.
In April 1961, I was a transfer student from Ohio, residing first in Long Beach and in August a new home in Garden Grove. Upon enrolling at Rancho Alamitos we were made aware football practices already had started for fall semester. It was then I first met Steve at the two a day practices that so dehydrated a person we'd gulp down A&W root beer by the gallon. We became fast friends though we never shared a class together.
We graduated RAHS 1963 and started at Orange Coast College in the fall of 1963 and quite promptly were on academic probation. We thought college was just high school with ashtrays so we became quite proficient at billiards and snooker across the street at Kona Lanes to the detriment of our education.
Steve's father was a military officer at Point Magu and he advised us to think about the military, as we were becoming selective service bait. "Did we want to be ground pounders or what"? We decided to enlist in the Air Force on the buddy plan, the recruiter lure sounded good. We were unaware that without a contract it was not binding whatsoever.
We strung along the recruiter the summer of 1964 spending a lot of free time near the Huntington Beach pier. It was probably then at a crash pad party on 6th street we met a pimply-faced girl from Texas who wanted to be a singer and was thinking she'd head on up to San Francisco. We wished her good luck; maybe it was Janis Joplin maybe not. By the end of summer we decided to enlist it would probably be good for us and also the GI bill would help pay for college.
We decided to treat ourselves to a farewell party for family and friends. In Ohio we always had big chicken roasts at most celebrations. Steve was all for it so we went over to National Lumber at Gilbert and Chapman and bought two large closet dowels. Steve's Mom bought most everything else at El Toro Commissary. It was a grand party with delicious barbequed chickens. Then we were ready for basic training, how hard could it be, we still had our football conditioning we were studs.
We arrived at Lackland AFB, San Antonio Texas, and we knew the party was over. It was November and over 100 degrees and the second day while getting barked at, a race riot broke out nearby. Geez, we were so naïve and innocent to the ways of the world. The civil rights movement was about to explode from city to city. Basic training was physical but nothing compared to the psychological stresses they purposely create to see if you can follow orders and endure. They have a limited time so they ramp it up from beginning to end.
Steve and I, being Californians were taunted about fruits and nuts and hot rods and queers ad infinitum and when there was any s--- details the California guys got it. We were smart enough to keep our friendship to ourselves it kept us somewhat self-assured. We also helped our mates keep it together even after the live-fire tests, crawling under barbed wire with machine gun fire just (one foot?) overhead. It can test your mettle but afterwards there is indescribable comradeship.
During the training period many tests are administered and Steve tested very high for the Monterey language school. We knew our separation was imminent, but the school wasn't accepting new applicants at the time and once again together we went across the base to Kelly AFB to Air Police tech school.
Technical school taught security and law enforcement it wasn't terribly academic and much of the film was even comical and we could share many chuckles over the proletarian glamorizing of military life. We knew no matter what there would be no reenlistment in our plans.
Upon completion of tech school everyone receives orders for redeployment and out of over a hundred airmen there were only two that would be going to Taiwan, Steve and Marty. Steve was first on the payphone to call home and his Mom told us it was Formosa that we were going to after a short leave at home. After leave together we flew from home to Travis AFB refueled in Hawaii plus engine trouble then to Guam and on to Taipei. Nearly a full day of travel did not prepare us for the last leg in a Gooney bird (death trap) with netting for seats buffeted by every breeze. Many lost their lunch on this flight from Taipei to our ultimate destination Tainan, and they would refuse the return opting to pay for there own train fare at the completion of this assignment. For Steve and I it was in for a penny, in for a pound, we went for the gusto as young men are often called fools.
On Tainan AFB there was a Chinese Air Force side and American area, Steve and I got separated to different squads and work shifts yet managed to see one another quite a bit. We certainly did a lot of crazy, stuff such as when on guard duty in a Typhoon we would emulate flying squirrels and spread our ponchos and fly off the ammo dumps. Steve bought a small motorcycle and traveled the island visiting and photographing remote temples. We ate at the noodle stands and joined with the population at festivities. Whereas many GI's were afraid to leave the base and experience life we had a zest that was perhaps very Californian.
During mid-tour the first red alert for Viet Nam was issued by President Johnson and we stood guard 36hrs crashed for 6hrs then did another 24hr stint. I still marvel at how quickly young men break down going through an ordeal like that and can only imagine the guys on the battlefield. Steve and I had resilience and became steelier certainly but remained good friends that enjoyed good times. Our last evening in Tainan we were at the bar (both of us now 21) and having a few drinks and we bid farewell to the "Rock".
At the bar a sunburned young soldier on R&R rest and recuperation, just hours removed from the jungle of Vietnam, and was having a serious melt down. Steve and I coaxed him to talk about it. He insisted that he'd cleared every inch of the road that it was clear he was sure of it but when his squad drove over, the bomb killed everyone but one. That one guy was his best friend a Mexican guy he'd never could've been a friend with back in the states but in Vietnam they were the California guys and they were mocked and thrown together on every shit detail there was. They took it and laughed and never let them break us apart. Now his friend was alive but a vegetable. "So they sent you out on R&R did they?" "No, no that wasn't the reason you see about a week later we were out on patrol and surrounded some black pajama gooks out in a rice paddy. Maybe they were farmers maybe "Cong", but I opened fire on them anyway". About that time at the bar his agitation was extreme and our Chinese bartender was cutting him off from anymore drink. He then tried to climb over the bar saying he was going to kill that gook and Steve and I restrained him and encouraged him to leave with us. We left him at his barracks crying for his Mexican brother.
Our Gooney bird flight to Taipei the next day was as uneventful as a roller coaster ride, the baling wire held together, all's well that ends well. We had a day to kill before our flight out. We got our cameras and went to the famous Royal hotel that resembles a huge Buddhist temple. We were scoping out the lobby when a big ruckus ensued and a security detail came in and told everyone to make no sudden moves and absolutely no photographs were to be taken and then Chiang Kai-shek walked through like an emperor it was surreal and very scary. Steve and I had a few giggles about what might've happened had we clicked one off.
We flew to Kadena Okinawa and the next day flew the northern route home to Travis AFB California and onto Lax where we shuttled to the Disneyland Hotel for $2.79. We did not have orders for our next assignment though both of us had requested Germany, our orders to wherever would be mailed to us. For nearly 40 days we beat a path to the beach barely concerned about AWOL, we were just awaiting our orders.
Our families were close and dear, a development that emerged from our friendship. Steve loved being at our house for dinner. My mother a domestic engineer provided meat and potatoes and plenty of it plus homemade pies or Steve's favorite apple strudel. Mrs. Rose Mullins was an RN, a night supervisor who enjoyed our being regaled by the bawdy joking of her charges and our reactions. They just loved to show off the placentas they kept in the freezer. I love nurses as the best people in the whole world. Mrs. Mullins was a stickler for good grammar and proper deportment and she was very mothering.
Finally we once again were together assigned to Germany though I was sent to Wiesbaden and Steve to Frankfurt. Steve was detached from Frankfurt to a German NATO base near Hanover quite a distance yet still we kept in touch. Steve's assignment on this smallish American mission gave him ample opportunity to befriend German soldiers. This would be an important link for Marty to meet his future spouse.
We didn't see one another much; we wrote infrequently but managed a big vacation in 1967 going to the Costa de Brava, Barcelona and Mallorca via the Italian and French Riviera. We always reconnected right where we left off and kept the same joie de vivre. We never verbalized it but we had each other's back and would do anything for each other. It never weakened but strengthened over the course of our friendship. Despite the separation we once again left Germany reunited on the same flight and were discharged at Maguire AFB and waited a few days for Steve's Opel Kadett Ralleye to arrive at NYC port. We stayed at a youth hostel and experienced New York and realized America had changed quite a lot from 1964 to 1968. We were to experience the culture shock of returning military personnel, strangers in a strange land, home but foreigners.
We made our way to northeast Ohio where my family, Aunts, Uncles and many cousins enveloped us in love, respect and maybe awe and then to Illinois where Steve's family did the same. Next we visited service friends as we migrated westward. Just before the holidays 1968 we were once again home with family in California, whereupon we intended to finish college.
We enrolled at Orange Coast College and took the required courses and shared a couple of sociology classes. Steve was committed and put the pedal down, finished at OCC and transferred to California State University Fullerton. I followed much the same track but slower, much more windblown caught up in causes and movements of the time. Steve received his Sociology degree CSUF in 1971 and took a vacation from his part time job at Nabisco to celebrate before seeking work in the sociology field.
Steve traveled to Germany and visited ex-soldier German friends. Herb and Elfi Holthaus brought an American friend Steve to a Garden party at the home of Christiane and Gabriele Schoppe. He had such a great time there that he wanted to reciprocate and invited Christiane and Gaby to vacation at his Garden Grove home should they ever visit the states. In the spring of 1973 Christiane and Gaby did visit Herb and Elfi in Sacramento and Steve drove up there and brought them to Garden Grove to allow them to visit Universal, Disneyland and such. Steve called Marty and asked him over to go out dancing with his new visitors. In very short order Christiane and Marty became engaged. Marty was to follow Christiane to Siegen, West Germany however, she made the relocation to California, Marty was chicken to relocate.
Steve was hired by Los Angeles probation department and recommended Marty to the Nabisco shipping supervisor and subsequently he was hired in June 1973. Steve was virtually a jailer at Los Padrinos juvenile detention and he was totally dismayed that all the sociology theory was aerie faerie when dealing with some huge teen gang-bangers that more likely than not were killers. He could not wait to get out of there but it would be a while and he would have to learn to intimidate in order to protect himself and his comrades.
In June of 1974 Marty and Christiane were married in the back yard of Marty's family home in Garden Grove. The chaplain from Fairview State Hospital officiated, Herb Holthaus gave away the bride and Steve was the best man. We had a great big chicken roast and a grand celebration. Marty and Christiane rented one of his father's apartments in Westminster as their first home and Steve was a frequent visitor.
Steve eventually was hired by Orange County Probation Department, and worked adult probation, supervised home detention and juvenile services at one time or another. Steve declined promotions even after he received a Pepperdine MBA; the prospect of supervising and managing people was maybe too much like the jailer job that he hated. Steve met Susan Cox in 1978 and they married on Valentines Day 1982. Marty was best man for the occasion and Steve was as happy as the bride was radiant. The ensuing years afforded less contact though Diamond Bar and Huntington Beach are not so distant, work and family and general interests kept Marty and Steve occupied.
Susan with Steve's support and participation had a side business selling "collectibles" and that meant scouring estate sales finding gems and treasures that others didn't value. Under Susie's tutelage Steve became quite good at finding bargains and steals. They warehoused at their place and so didn't entertain. Later the two of them became very involved in dog rescue and loved their pooches. How many? Don't even go there.
One interest that we had in common was Angel baseball. For Marty he left his allegiance for the tribe in Cleveland and accepted the Angels in their birth year1961. Steve as well became an ardent follower and we tried to get to the "Big A", several times a year though that too waned. We did get to see Dennis Papke (RAHS64) play when he was with the Royals; it was a kick to have him come over to the fence and chat. One of Steve's biggest heartaches was being the last cut on the 1963 varsity squad but he never did have a bad word to say about Coach Johnson. Steve was not a negative person it just wasn't in him.
The Phoenix Club became a second home for Marty, Christiane and daughters Shoshana and Daniela. In 1975 Christiane was hired as office manager of the Club and after the birth of our daughters we became active members that did a lot of volunteerism. Steve and family enjoyed coming to October fests and prize shooting at the air rifle range. Steve was an expert marksman so it was like shooting fish in a barrel, once he had the sights figured out. Steve was very balanced and a natural athlete in many sports but without glasses he was legally blind. I think he would have liked to become a pilot.
Steve opted for early retirement and he had a decent pension and health care. Steve and Susie had several years of good life with the side business and rescuing abused and neglected animals. Then the inexplicable happened, Steve was involved in minor traffic collisions. After the fourth in less than a year they started a search for a medical answer. It was an ordeal of the health care system and several neurologists later that confirmed Steve had a rare and incurable illness, Supra Nuclear Palsy. Often misdiagnosed as Parkinson this infirmity can end with severe depression and Alzheimer symptoms.
At first it didn't seem he could be that sick, he was laughing drinking a few beers just the same as always, so what if he couldn't drive. Yet he was on a slippery slope and each time we saw him his balance and speech were diminished. The last neurologist said five years but in less than half that he was going to need to be institutionalized. We celebrated the 4th of July 2009 with a block party chicken roast and Steve was valiant but while turning the chickens three times they landed in the coals. Everyone was very sensitive. The chickens tasted better than ever but for the pall I felt, we had no idea that we had so little time left.
Steve passed away June 26th 2010; Susie recalls the decline had been difficult towards the end. Yet he remained upbeat and cognitive, his balance and communication were severely impacted but it was aspirated pneumonia that caused death. Susie decided to not have services of any kind and we respected that wish. Our family however felt we needed to have closure and needed to memorialize him in some way. A family decision was made to have a chicken roast as a final tribute to Steve. He would have loved that very much and appreciate the turnout, camaraderie, food, drink and music.
Steve was remembered as a good natured, genial and generous man. He was also remembered as handsome with jet-black hair and a Clark Kent presence. We could not recall ever seeing him angry He was a big brother to my siblings, a son to my parents. He was my dearest friend for nearly fifty years and though I was determined not to sob nor get maudlin in the remarks my emotions bubbled to the surface. I truly felt good for him to be free from the bounds of the earth but sorry for my grief. When all was said and done we felt it was a success and a real tribute to the man we knew.
My daughter came to me later and said I don't want to be cheesy Dad but when the words were being said a hummingbird came into our midst and just hovered there looking at us. Wow, I thought that couldn't be Steve could it? Why not, I guess I can understand that someone with Supra-Nuclear Palsy might want to flit around as quickly as a Hummingbird. Now when working in the garden often a hummingbird keeps me company chattering away, as only Steve could do.