Saratoga Reunion
June 2009
Photo courtesy of Walt and Marti Unger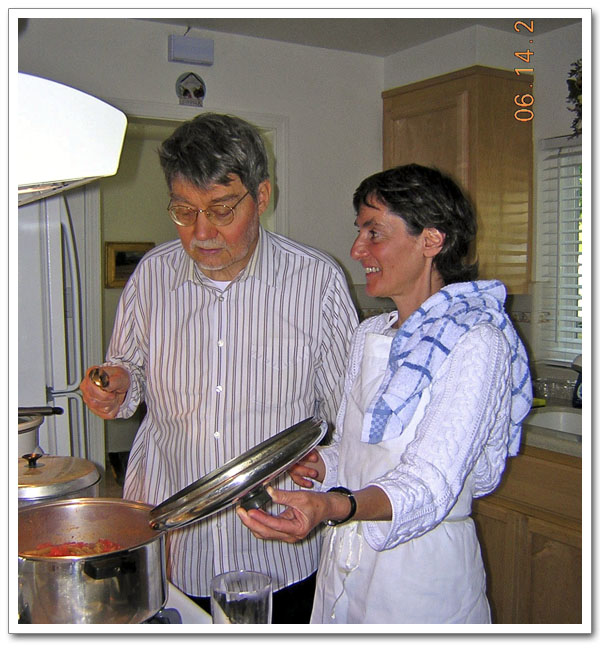 Bob Iding and His Wife Sharon Cooking Up Some Fallon Delight
Bob says, "Fallon Delight is something we used to cook up over a campfire during our car camping trips to Nevada as undergraduates (with Sonntag, Fretter, and other Berkeley students). It was a good meal for long trips since it was all precooked canned goods and dry pasta. Not something that Sharon would want me to eat very much of these days. But it tasted pretty good at our reunion in Saratoga and it all got eaten up!"
"Formula is: one or two large cans of Chili con Carne with Beans,one large can of stewed tomatoes, one can of tomato sauce (like you use to make spaghetti sauce), two cans of string beans (the kind cooked and cut into one inch or so pieces), one can of beans (brown ones, like you use to make chili and beans)."
"Mix it all together and simmer for a while over the campfire to make sure it's good and hot. Separately, cook up (with a little salt) two pounds of macaroni (the kind you use for macaroni and cheese) - not too hard and not mushy either. We used to use the Coleman burner for the macaroni and the campfire for the sauce in order to keep things moving. Serve by pouring the sauce over the macaroni. This all was simple enough that a bunch of guys could make it using their own tools."