Trudi Sigeske Covey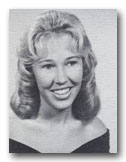 Wow - where do you start after fifty years? I can still picture graduation day in 1962. We thought we knew everything there was to know about life. I suppose some pictured the white picket fence and the 2 1/2 kids and 2 cars in every garage and 2 chickens in every pot and living happily ever after. One of my favorite quotes (I am very big on meaningful quotes) that I have found over the years is from Rick Warren, Pastor of Saddleback Church which states: The very experiences that you have resented or regretted most in life, the ones you've wanted to hide and forget - are the experiences God wants you to use to help others. There are many other quotes that I have come to keep in my memory over the years that have helped me through the many "experiences" in my life.
I don't know if any of you watch Jeopardy and Wheel of Fortune but those seem to be my "down time after work" moments. I often wondered what I could share if I went on either of those shows. Then the other day there was a woman who shared - "I have a wonderful husband and two great children...oh wait that was someone else's life." Needless to say it got a good laugh. I just sat down at my computer to do some work and decided to read a few of the classmate bios. I ended up reading every one of them. So many different lives - so many different experiences - I found it very interesting. There are so many who I wonder about after all these years - whatever happened to them.
My high school days were some of the best days of my life - I made lifelong friends there - I loved those innocent years (for some anyway). I had the best friends, we all hung out together and we did fun things like bowling for 25 cents after midnight after going to the drive-in. Hanging out at A&W root beer and Pals drive-ins after school. Remember those places? Gas was 25 cents a gallon and cigarettes were 25 cents a pack. I don't think the kids today will ever have the opportunity's we had and I suppose vice-versa. I am very grateful to have grown up at that time - before the drug years and before so much technology. I guess I could say we didn't really know or feel we were missing anything.
I started work after graduation on my birthday - the day I turned 18, in July of 1962. I worked at Beckman Instruments for 5 years and then went to Aberdeen Maryland for about 6 months with my husband (Dave Covey) who was stationed there after Vietnam. He was discharged at Christmas time in 1967. This was the end of his service in the army and we came home to California to live.
I always had a desire to work in the accounting field and ended up doing just that. My grandfather - who died before I was born - was an accountant - my sister and brother and I all worked in that field so I guess we must have come by it honestly. I didn't attend college after high school, but attended at night a little later on to get my degree in accounting. I worked for a CPA for a while, then a Bookkeeping firm and then for the last 35 years I have worked for my brother who is a CPA. He recently semi-retired on the first of November 2010 and we both work for the new owner. However, I am now working fewer hours and enjoying the extra time off.
There is not enough space here to write about what I have learned in this lifetime. There has been much addiction along the way in my life in some of my friends and family members. However, if addiction had not come into my life, I would not be the person I am today, and I consider that a good thing. If anyone has experienced addiction in a family member or friend, please feel free to ask me and I will share my story with you. As the quote says - I need to use my experience to help others.
I am currently the treasurer of my church and the treasurer and board member of a non-profit organization. In that organization I am on the Literature Committee, the Newsletter committee (writing, editing and preparing new and existing articles, books and literature) and a recently formed Finance Committee. This keeps me extremely busy. I have been a member of this program for 20 years. It is a program to help families and friends of addicts.
I have (2) children, a son and a daughter, and (1) grandson (4 1/2) who is the apple of my eye. I was always told how wonderful grandchildren are and have found this to be true. I heard on the news the other day about a couple who had 100 - yes 100 grandchildren. My goodness I don't have enough time for the one - much less 100! I don't know if I could even remember all their names. Both my children went to Rancho and I would venture to say that I graduated from there three times. They did not enjoy their high school years as much as I did! I have stayed in Orange County, along with my family and many nieces and nephews who also graduated from Rancho. I now live in Huntington Beach.
My husband passed away in January 2010. I'm sure others have gone through this experience and can also share on the changes that must be made when life happens. As I've mentioned I'm big on quotes and found that sometimes "Life happens when you are busy making other plans."
I enjoy reading (mostly non-fiction and books with a message) quilting and crocheting rugs when I have time. I'm not really big on traveling - like to be home and enjoy the peaceful times. I must be getting old! I enjoy road trips with my best friends. I have made some wonderful friends along the way, but my high school friends that I keep in touch with will always be my BFF's.
I have found over the years that I am a perfectionist, that I don't like wasting time - I like things to be in order - I want to find the problem, find the solution and get the job done in order to move on to the next project. I have found that you cannot change people, places and things, that they all must be accepted for who and what they are, not who we wish them to be. I have found that the best things in life are the lessons we learn along the way and the people we meet who come into our lives for a reason, a season or a lifetime. I have found that the fertilizer that helps us grow is in the valleys, not on the mountaintops! (Another one of my favorites)
Wow - how do you end after 50 years? I guess I would love to be able to say - When I stand before God at the end of my life, I would hope that I would not have a single bit of talent left, and I could say,
"I used everything you gave me." ~ Erma Bombeck ~