Phillip Quigley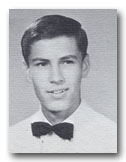 After graduation from Rancho I entered Long Beach State and began saving my pennies so I could transfer to UCLA. I managed to do that after one year and graduated from UCLA in 1967 despite some ongoing health issues (Crohn's disease). I entered Law School at the University of Utah planning to complete my degree and immediately return to CA. Life, however, had other plans. The health issues got worse and in my third year of law school I was considered terminal. I survived but was not able to complete law school.
At the University I had met and dated Lorri Clay who was studying to be a teacher of the deaf. We married in 1969 and have just celebrated our 40th anniversary. Lorri also completed her degree and became a teacher of the deaf at the Utah School for the Deaf and the Blind. Later she became director of the media center at the school and developed a keen interest in Braille literacy. She served on a number of national committees and has been a leader in advancing the use of technology for the blind and for the deaf.
By 1975 my health was better so I entered a masters program in counseling psychology. Then I worked as a counselor primarily in the substance abuse field. I served as Director of the Salt Lake Alcohol Rehabilitation Center, part of the non-profit Utah Alcoholism Foundation. Subsequently I was Treatment Director at another clinic and maintained a small private practice (as a Licensed Professional Counselor). I also became certified as an EAP counselor and was president of the local EAPA chapter for some years. In addition to chemical dependency treatment I've developed a professional interest in object relations theory and the treatment of borderline personality disorders; in Employee Assistance Programs (EAP); in Positive Psychology and in professional ethics. I've given presentations on each of those subjects. I also worked for Aetna Behavioral Health in a variety of roles including supervising care managers, and helping to develop new products (primarily behavioral health benefit plans). I managed a network of EAP counselors in the western states and internationally. I also served as HIPAA Privacy Official and Compliance manager for the behavioral health call centers for Aetna.
Lorri and I both retired at the beginning of this year, 2009. Along the way we had two children, both of whom live in Salt Lake. We have two granddaughters. And as anyone with grandchildren knows, it is hard to move away from grandchildren. My original plans to move back to CA never did work out. I almost made it one time when I was offered the directorship of a hospital treatment unit in San Jose, but we were not able to coordinate with Lorri's career at that time so here we are, still in Utah.
So far retirement has been delightful. Friends have predicted that we will both get bored and want to go back to work. But our problem has been that we're too busy. I've been able to pursue my interest in tinkering with computers and other technology, reading and spending lots of time with our grandchildren. I'm learning to play the organ (my first ever musical instrument) and hope to learn the piano. We also plan to travel and I hope to resume my old woodworking hobby. So getting bored and going back to work doesn't seem to be in the cards for now.