Mike Wentink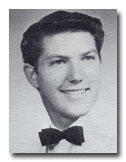 Mike has a daughter Casey, a son Matthew, and three grandchildren: Jasmine, Cassidy and Cameron.
"Living in the OC across the street from the Aliso Viejo Country Club of which we are members and being an avid golfer and semi-snobby wine lover, mostly California wines", keeps Mike busy.
One of the most important turning points in my life is when our school principle called me into his office the first day of my senior year at Rancho with a warning about my attitude and behavior; I would be asked to leave school if I didn't "shape up." I then started hanging around with Carol Winn, Trudi Sigeski, Janice Elliot, Denise Richardson and Cherie Hamilton. There is no telling where I might have ended up in life had it not been for their love and influence on me. Thanks ladies; I will love you eternally.
Served and fought in Viet Nam 1966-67. I graduated from Cal State Fullerton 1970 and immediately went to work for Arthur Anderson & Co for 6 years, CPA, specializing in real estate and left to work for a home building client in 1976. Met first wife, Jeanette, and married in 1971 (divorced 1985) and had 1 child, my daughter Casey in 1972. I spent 35 years in various disciplines in the real estate development industry and semi-retired in 2005.
Met and married the love of my life, Kim, in 1991 and adopted our son Matthew in 1996 as a new born. He will be attending Crean Lutheran H.S. (Irvine) in 2011 and wants to eventually become a lawyer. He's our Michael J Fox (Family Ties) and constantly arguing politics; driving us nuts but we love his commitment and willingness to share his opinions with us. Most importantly, in March 1973, I accepted Jesus Christ as my Lord and Savior and have comfort knowing He is by my side at all times...thank you Lord.

photo album
(click photo)