Jim Silva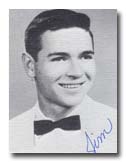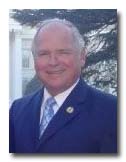 Note: Assembly member Jim Silva represents the 67th District (including portions of Orange County) in the California Assembly. His District office phone is: (714) 843-4966, and his Capitol office phone is: (916) 319-2067. His Capitol Address is: State Capitol, Room 5158, Sacramento, CA 94249-0001.
Jim was previously Vice Chairman of the Orange County Board of Supervisors (and an Orange County Supervisor for the Second District), Mayor of Huntington Beach, a teacher in the Garden Grove Unified School District, and a RAHS Class of 1962 graduate.
Jim writes:
"My son, Chad, is married (Andrea) and currently serving as a captain in the U.S. Air Force where he flies F-16s. He just started a three-year tour in Holland, where he will help train Holland's pilots."
"Donna, my daughter, who along with Chad graduated from the Air Force Academy, served four years in Air Force intelligence. She currently lives in Virginia with her husband, Ethan, also an Air Force pilot (flying the F-22)."
"Connie and I are both doing great. Connie recently retired after 35 years of teaching special education at Bolsa High School. I am in my second year as a California State Assemblyman. Connie and I still live in Huntington Harbor, and we love it there...Jim"
You can learn more about Assemblyman Jim Silva and subscribe to his newsletter on his website: republican.assembly.ca.gov/members/a67