Janice Longo Lee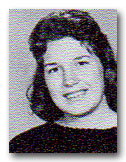 I was mostly a wall flower at Rancho. So, most will not remember me at all. During my Sophomore year I met the love of my life. At least I thought it was. At the old age of sixteen I was engaged to a Marine from Camp Pendleton. He was sent overseas during my Junior year. Instead of finishing my Senior year at Rancho I decided to go to night school (Anaheim). I went to beauty school during the day (didn't take long to realize that wasn't the job for me) and night school for graduation. I actually graduated a few days before Rancho's graduation and was the youngest in my graduating class. My husband returned from overseas the 7th of May 1962. We were married the 27th of May just before graduation. We were blessed with two beautiful little girls. Sadly, the marriage didn't work out and 8 years later I returned to Southern California.
Finding work at the phone company in Riverside, I moved to Corona, CA. In 1971 I transferred to Phoenix, AZ to be near my brother. However, life changing events happen. Even though I was perfectly happy raising my children alone, an old friend showed up and life took a different direction. I had know him since I was 16 years old and double dated with my ex-husband. We were married November 1972, had a son late 1973 and spent 35 years together until his death in 2008.
In all I moved 21 times in 16 years during my adult life. However, after my husband's retirement from the Marine corps and a couple different searches we finally found our niche in Spokane, WA. During my life I have worked as a telephone operator, clerical worker at two hospitals, a credit bureau and a car dealership. Finally I decided that I wanted to get out of my chair and get a physical job. The last 13 years I worked as a hot lunch lady (much to my son's horror) and had every holiday, Summer and afternoon off. Worked for me. I have Mr. Slingsby to thank for the ability to get employment in a field that I loved.
Upon my husband's retirement age we moved our daughter and grandchildren (from my first marriage) into our home, packed the RV and went on the road. Last Summer my grandson and I came to an agreement and he is the new owner of our family home. This is the 8th Winter I have spent in Arizona.
So that's it in a nut shell.
photo album
(click photo)