John R. "Jack" McGill, Ph.D.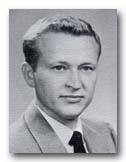 Personal:
Married to Joyce. Three daughters and one son. Two grandchildren. Two great grandchildren with hope for more of those enchanting rug rats.
Have traveled the world with the armed forces, and have lived coast to coast and varying points in between professionally. Have found that there is no Utopia, but have concluded that life is what one makes of it---the glass is always half full not half empty!

Education:
B.S. - University of Chicago-Northern Illinois University (Sciences) Earth Sciences-Physical Sciences-Mathematics
B.A.- Northwestern University (Humanities) - History-Philosophy-Literature
M.A.-California State University, Long Beach (Social Sciences) Anthropology-Geography-Sociology
M.S.-University of Southern California (Business-Education-Government) Administration & Management -- Counseling-Educational-Social Psychology
Ph.D.-University of California, Los Angeles (Higher Education) Historical-Philosophical-Sociological Perspectives
ABD-George Washington University (Philosophy) Political-Economic-Social-Religious
Military Experience:
30 years of active and reserve duty with the Army (Airborne Infantry and Ranger), Air Force ( Fighter Pilot), and Navy (Attack Pilot). Captain, USNR, Retired.
Professional Experience:
GGUSD: OAPIS, RAHS, LQHS - Taught sciences, math, history, geography, as well as having been a Counselor and Dean.
OCC, CSULB, CC, USC, UCLA, MCC, WWU, ECC, JIU- Professor, Dean, Vice President, Vice Chancellor, and Acting-Interim President.
National Center for Higher Education (NCHE) -Washington, D.C. Executive Assistant to the President.