Virginia (Ginny) Banks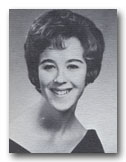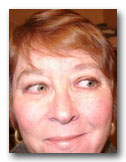 First of all, let me start out by saying that most of you won't remember me...I wasn't in any way "popular." I had gone to Palm Lane Elementary, Loara, and Brookhurst before Rancho. (Oh, yeah, there was my freshman year at Garden Grove High-something about school district boundaries.) Once at Rancho, I had a small core group of friends, I was a pretty good student, not terribly involved in school activities, but I was there every day (except for one day in my senior year when I played hookey). I was on the annual staff in my senior year, I belonged to a couple of clubs, I went to football and basketball games a lot. But mostly I was under the radar.
I loved going to Knott's Berry Farm and Disneyland (you could afford it then!), and of course Huntington Beach and Newport and Irvine. When I got my driver's license, we drove all over the place; I remember a gas station that had 10-cent-a-gallon gas wars every once in awhile-that made it pretty easy to cruise around. I wasn't exactly the center of the social scene, but I had a good time anyway. My favorite classes were art (Mr. Bassham), Spanish (Mr. Sexton), gym (when we played tennis), and I confess to loving a history class taught by Mr. Peerenboom, in one of the Quonset huts out by the football field. Warm breeze coming in through the windows, the smell of eucalyptus-aahhh, those were the days!
Right after I graduated from Rancho in '62, I went down to Orange Coast College where I spent a couple of years studying art and the other requirements. I met and married my first husband, Jim Mertens, in '63. Boy, were we young! It's amazing what we didn't know about - anything! But, amazingly, we managed to survive. Jim was in the Marine Corps, stationed at Camp Pendleton, and he commuted back and forth to Santa Ana, where we lived. We had a son, Christopher, in 1965, born at Santa Ana Community Hospital. After Jim got out of the Marines, we bought a house in Westminster. We both worked at Douglas Aircraft in Torrance for a year or so, and then Jim got a job at Fruehauf in L.A, and from there was offered a job at Boeing in Seattle. We moved there in 1966 and shortly after that we agreed to disagree and divorced. I worked at Sundstrand, then at Honeywell and decided to go back to school to finish my art degree. I attended a community college in Seattle until I finished my basic requirements and then went on to the University of Washington and Burnley School of Professional Art.
During the time that my son Christopher was in grade school, middle school and high school, we lived in Northeast Seattle in the Ravenna neighborhood, close to the University. It was a good time for us. I worked for a couple of design firms doing graphic design, and then ran my own design business. I taught design at the Art Institute of Seattle, which was a real learning experience. There is nothing like teaching a subject to make you understand it better.
Chris joined the Air Force right after he graduated from high school and was stationed in Colorado Springs at Peterson Air Force Base. Big time empty nest for me! Even though I had plenty to do in my own life, I still missed being a mom. I shook it off in a few weeks and realized the other side of the coin was good too... Although I still worried about him being in boot camp and all that, I realized that he was actually growing up and was really ready to fly the nest.
I moved to Bellevue, WA, which is east of Seattle, across Lake Washington (definitely a suburb experience). I worked for 10 years at Image Ink Studio in Bellevue, during which time I met my wonderful partner, Tom Walden. We lived in Kirkland, which is close to Bellevue, for several years, and then decided to make a break for it and we relocated to the Olympic Peninsula. We now live in Port Townsend http://www.enjoypt.com where I work at a small shop where I do design. Tom works in Poulsbo, not far away, where he works at a plant that makes prosthetics.
We have a nice little house and garden and two black cats, complete bums who absolutely rule the place. We even had a bumper crop of cherries on our new little trees, and lovely roses climbing up the fence. High school seems so far away (well, it is!), but I'll always remember Rancho. Go Vaqs!
The Big Six-Five
July 8, 2009
Today I have officially arrived at the status of senior. It is with no small amount of cringing that I type these words.
See, the thing is, senior status creeps up on you several years before the actual 65th birthday. Even though you can remain somewhat in denial about the aging thing, there are always, always signs that people show you to let you know that you are no longer young, no longer youngish, nor even middle-aged.
"Oh, yes, cereal too," and then she leans over, and says in a loud whisper, "As we get older, we need a little help to be more regular, don't we?"
Regular? I bought the cereal because it tastes crunchy-sweet-good, but this lady for some reason decides it's OK for her to include me in her constipational, er, situation. Since we're both old and all.
And then one of my co-workers (even older than I) loves the fact that someone in the office is "of an age," she says, that she can commiserate with. She is always saying things like, "You know, people of our generation just seem to a have better work ethic than kids now, don't you think?" Or, "You and I understand what it's like for your body to begin falling apart, don't we?"
Is that supposed to make me feel all warm, fuzzy, and friendly-like? It just makes me want to drop the F-bomb on her (not that I really use the F-bomb [actually, that just further illustrates my age]).
But the final insult is when the kid behind the ticket booth at our local theater looks at me and asks if I would like a senior discount. Kids these days. No manners.
Of course I wouldn't be grousing about these things if we lived in a culture that honored the wisdom and experience of age. I would embrace any comments about my shared aging process with other elders; I would consider it a point of honor to have younger people recognize my age and its attached status.
Don't get me wrong; I find that there is a lot to be happy about as I reach this milestone. There is the accumulation of a lot of life experience and wisdom. I now realize that I don't actually have to be ashamed of anything I've done in my life (even if it wasn't the best choice, even if it accidentally hurt others, and even if it made me look completely stupid). I was just doing my best with what I had at the time. I can't change the past; all I can do is accept what I learned from various events and hope that those I hurt can forgive me.
I now realize that what other people think of me is actually none of my business. I realize that the best things in life aren't things. I have now accumulated more (MUCH more) compassion for people and animals. I weep, sometimes inwardly and sometimes outwardly, at the injustices of the world. I am probably a better grandparent than I was a parent (Lord love my wonderful son; sometimes I feel that I was as much of a kid as he was.)
I realize that I now have a harder time with so many of our public figures and their antics, their hypocrisy. Although I generally try hard not to judge others, I am less tolerant now than when I was younger of people who go around preaching family values, for instance, and then go hiking on the Appalachian Trail, so to speak. Or those who refuse to do their job as elected officials and won't pay attention to the needs of the people. I know, without a doubt, that I indeed have more accumulated wisdom than many of these people.
Conversely, I keep trying to walk in the shoes of people I don't like. This is a rough one for me. But the thing is, I never would have even considered that in my younger days. I hope someday to have the wisdom to realize--and act on the idea-- that humans (me, you, anybody) can easily be possessed by that same frailty, greed and corruption that inspires such dislike in me.
I am more in touch with my boundaries; I've learned to say no (the curse of my wishy-washy youth was going along with pretty much what others thought was best for me, or worse, what they needed from me).
For me, at least, these things have had to come with the school-of-hard-knocks kind of experience. I wasn't born with the innate sense of any of these things. Some people are; I salute them and try not to envy.
All in all, I'm quite happy with who I turned out to be. I'm not done; it's a work in progress. Thanks to all of you who've been my companions on this strange journey. I love you all.