Gerald (Jerry) Paland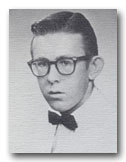 Gerald was drafted in '65, stationed in Korea, and married in 1975 to Lorelei Wagner (VVHS '73). He writes: "We have four kids, (two girls and two boys), and three grandkids (two boys, one girl)."
Gerald is enjoying retirement since 2006 after thirty six years with Lockheed in Palmdale!