Fredda Sprouse Mifflin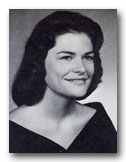 Jerry and I met in my church's youth group in Garden Grove one week after I graduated from RAHS in 1961. He was in the Marines, in his fourth year of service. Early in 1963, after Jerry's discharge, we were married and immediately moved to his hometown, Tucson, Arizona. We lived there for eleven years and our two children, a son (Jarrett) and a daughter (Shawn) were born there. But Jerry's fondest childhood memories were in Arkansas -- also my parents had moved from Southern California to retire in Northwest Arkansas. We ended up here with our young family in 1974.
I was a stay-at-home mom until our children were almost teenagers, then went to work as a legal secretary for a few years, and later as an office manager. Jerry was in telecommunications with AT&T Computer Systems when the Lord opened the door in 2001 for him to work exclusively as an artist, designing and carving fireplace mantels. We both left our jobs and it's been just wonderful. I nervously took the challenge and built his website: www.jerrymifflinwoodcarving.com. I love computers and seem to be attached at the hip to my laptop. :=]
Our children are both happily married with families of their own. We have five grandchildren. The Lord has blessed us immeasurably over the years. I'll always be thankful to Him for bringing my soul mate into my life at such a young age. We've enjoyed 46 wonderful years together.