Ernest (Ernie) Hamor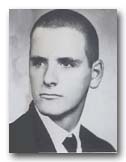 I live in San Bernardino county, off of old route 66. It is midway between Victorville and Barstow. It's a golf and tennis resort-community called Silver Lakes. We have about 3000 homes built around two lakes and a 27 hole golf course. I am here for the golf, about three times a week.
I am semi-retired but still have about 100 clients. I do investments and retirement planning.