Doug Beauchamp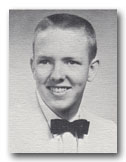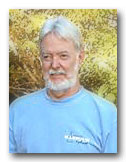 H'lo fellow classmates of RAHS '62:
This bio has been a long time coming because we didn't have a current photo of Kathy & myself. We just managed this photo with our granddaughter and I am reasonably sure my mug didn't do any permanent damage to the camera. that "sneer" on my face is my attempt at a smile...I know...it needs some work.
Bio info:
I attended CSULB and received a Bachelors degree in business.
I completed course work for an MBA and MVE at CSULB.
I spent several years in the computer industry in the "good ol' days" before PC's.
I then did a complete 180 degree reversal and became a carpenter.
I did carpentry for a few years and then became a full time community college instructor for five years, after which I went back into carpentry; became a general contractor; and retired in 2005.
My greatest success and happiness has been having the good fortune to meet, court, and marry my life partner of 37 years. Kathy and I met through surfing and still surf daily...waves and weather permitting. Kathy is a middle school teacher and plans to retire June of 2010. She has taught at the same school and the same classroom the entire time. We reside in Huntington Beach, Ca., and have been here for some 38 years. We have one daughter, who lives in Charleston, South Carolina with her husband and daughter.
Both our interests center around surfing, skiing, snowboarding, mountain biking, tennis, fishing, and spoiling our big ol' lovable German Shepherd. Kathy's interests also extend to the arts: painting, drawing, print making, and ceramics. My art interests tend toward music...specifically guitar.
I am enthusiastically looking forward to this 50th reunion in terms of renewing and reconnecting past relationships and I hope establishing new ones. I would be happy to respond to questions, comments, & salutations.
Doug Beauchamp