Donnie Pieper Williams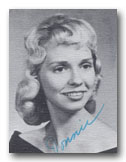 I was married to Howard Herbert, a fellow student, for over 20 years. We had 4 sons during this time.
I married a second time 21 years ago to my husband Walter Williams and we adopted two babies. They are the light of my life. My daughter is 13 and my son is 12.
I suffered from post-traumatic stress syndrome and even though I had been in the banking industry for over 25 years, I was never able to return to work again. So after 2 years of therapy, we decided to take advantage of my staying home to adopt like we had been wanting to do since we married.
During this period of time, I became a member of the Rancho Cucamonga Baptist Church, and a born again Christian. I thank God for my church family because they saved my sanity during the loss of my oldest son Luther. He died at age 40 from complications of diabetes.
I currently live in La Pine Oregon on an acre of land. It is beautiful here and quiet. I love animals and we have 4 german shepherds and a toy poodle, 4 cats and 7 geese. Two of my adult son's live here in La Pine close by so I see them frequently. I have 8 grandchildren. The oldest is 19 and the youngest is 3.
My third son is in the Navy in Virginia Beach. He is a Master Chief.