David Buckley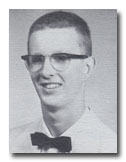 August 6, 2011
Hello RAHS Class of 1962,
Due to the stock market fluctuations and an uncertain global economy I reduced my vacation travels to keep an eye on the changes and challenges that lay ahead. Yes, our 50th Class reunion is scheduled for March 2012 and hopefully all classmates will attend to celebrate their friendships and memories while attending Rancho. A lot has occurred over the past 50 years so we'll have lots to discuss and get re-acquainted.
After graduation from Rancho I worked as a retail clerk at Thrifty Drug Stores while attending collage and obtained a Bachelors degree in Business Management from North Arizona University. My first career was with Firestone Tire & Rubber Company, but after three years decided to change careers and enter Insurance Claims and Management with Safeco then State Farm Insurance Companies. The most enjoyable work was handling and managing disaster operations around the country assisting claim personnel in processing claims for customers. Implementing computer programs to more efficiently and quickly handle the claim process was a major improvement for customers. Many customers and co-workers became life-long friends. Establishing computer programs to identify red flags and fraudulent claims was an improvement in weeding out dishonest people while assuring we paid what was owed to our honest policyholders.
Body surfing, snow skiing and hiking are my favorite pass time adventures. I drove up the west coast body surfing at many beaches in California, Oregon, Washington and Vancouver, Canada. After college snow skiing became my passion and I've skied at every ski resort in California, Utah, Colorado, Oregon, and Montana. Currently I hike about three to five mile every day to stay in shape and spend summers hiking through our national parks to view their natural beauty. Try it, you'll like it.
Decided to retire in 2004 to spend more time pursuing financial goals through investments and traveling to visit friends and our national parks. In 2004 a road trip took me through eleven states and eleven National Parks. This summer I'm traveling to Washington to visit North Cascade National Park. It's the one national park I missed in 2004. Another goal was to remodel, re-decorate, and re-furnish my home. The re-model was completed in 2005, but the re-decorate and re-furnishing is ongoing room by room. Six rooms completed and three rooms to go. Wish me luck!
HOPE EVERYONE HAS MANY HAPPY, HEALTHY AND JOYOUS YEARS AHEAD!
Dave Buckley
photo album
(click photo)