Bob Didlock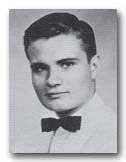 Bob Didlock attended Rancho only one year, as a Senior having transferred from Main Township High School, Park Ridge, Ill. After high school graduation Bob worked at Disneyland as a ride operator for four years. He attended Long Beach State and was active in student government and graduated in 1966 with a BA degree in Economics and Geography. In 1966 Bob began work for Hallmark Cards while getting his Secondary Teaching Credential while student teaching at Bolsa Grande High School.
In April of 1968 Bob and Judy married and in December of that year Bob was drafted into the US Army. He attended Military Police School and then served first in a Civil Affairs Group based in Augusta, GA and later as a photographer assigned to an armored unit in Fulda, Germany on the East/West German boarder. (In June of 2007 Bob and Judy, joined by friends they had met in the Army, returned to Fulda to visit where they lived. The post is an office complex today. Photography also became a life time hobby and some might say a habit.)
Upon returning from the Army in 1970 Bob returned to work on his masters in Economic Urban Planning at Long Beach State and worked part time for Hallmark Cards. Judy and Bob purchased a home in Cerritos, CA. Their daughter Heather was born in April of 1971 and today is the mother of Bob's two grandsons, Seven year old Cage Ford Cantlin and five year old Jack Cooper Cantlin. Bob and Judy's Son-in-law is Joe Cantlin. In 1974 Bob's son Edward was born and today is a Vice President with Bank of America. Edward is a graduate of UC Irvine and has his masters in Public Administration from Northridge State University.
Bob took early retirement while celebrating his 43rd year with Hallmark Cards in 2009. He had worked in several sales, training and management positions. Most notably he was part of a group which established Hallmark's Retail Real Estate department in the early 80s. He managed the west coast retail real estate group from his office in Newport Beach until the company closed their regional offices in 1998. Bob finished his career working his last 11 years out of his home as Hallmark's Western Region Director of Real Estate for Regional Malls. He currently is consulting various national retailers on leasing issues.
Bob enjoys golf (having played on the Rancho golf team), photography, reading (has written book reviews under name Bobby D. on Amazon.com since 2002), and lots of traveling with friends. Over the years Bob and Judy have enjoyed going to Maui every couple of years. Recent travels in 2008 were to New Zealand and Australia (where Bob has a very distant cousin who has traced the family tree back to the 1500s), in 2007 to Germany, Prague, and Budapest, Athens (for the second time), Venice (also for the second time), in 2006 to Rome (rented an apartment), and in 2005 the Baltic's via a cruise finding Saint Petersburg and Stockholm a couple of the great cities to spend time. Their most recent trip was in July 2011 to Copenhagen with a cruise to Norway, Iceland, Ireland and ended by spending a week in a London apartment with friends.
photo album
(click photo)