William "Bill" Lehman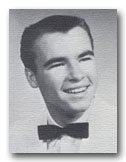 Hello Everyone,
After high school I spent my next four years with Uncle Sam, in the Navy, and transferred to the Marine Corp. Third Marine Division, Okinawa..
Briefly attended Orange Coast College. Married a gal from GG High School, had two sons, Scott and my youngest Todd. Todd turned forty on Friday the 26th of March. After the demise of that marriage I tried again and, well that didn't work. Moved to San Jose in 83, met my present wife and been married since.
Worked in Construction most of my life. Licensed in California and Arizona as a General Contractor. Lived in Az for about five years in Prescott Valley. Wife hated it! We moved back to Cal in November of 09, and now live in Magalia Ca in the mountains above Chico.
I enjoy fishing, had to sell my boat when we moved to Az. Hard to fish in the hi desert. Now it is time for another one.
I don't get to Southern Cal very often anymore. Come down to visit my sister Betty in Sun City, Son in Wildomar and son in Cypress. Grand kids are all grown except one grand daughter in Wildomar. She is a teenager.
This getting old stuff is for the birds. Start falling apart. What happened! One day you can't wait to get your driver's license - turn 21 and the next thing you know you're getting a Senior discount.
Well thats my Story and I'm sticking to it!
Bill Lehman