Wilfred "Willie" Dancer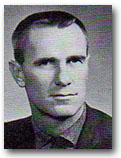 July 29, 1924 ~ March 7, 2015
RIP Willie Dancer, coach and auto shop teacher at RAHS - dead at 90. Services for Willie Dancer are March 19th 10:00am at St. Joachim Catholic Church, 1964 Orange Ave Costa Mesa, CA.
Coach Willie Dancer was one of the good guys and he will be missed!


In the photo below, Jason Lupei Introduces Former Teachers at the Rancho Alamitos High School 50th Anniversary Celebration on May 17, 2008. Left to right: Jason Lupei, Willie Dancer, John Callard, Ivar Seaton, Mark Mosteller. John Callard passed away in 2008 and Mark Mosteller passed away in 2011. Photo by Jan Tonner.