Ward Fisher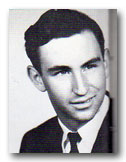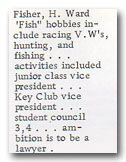 April 20, 1947 - February 19, 2011
Harry Ward Fisher Posted On February 28th, 2011 - Honolulu Star-Advertiser

Feb. 19, 2011 Harry Ward Fisher, 63, of Kapa'a, Kauai, a Golden State Foods truck driver, died at home. He was born in California. He is survived by wife Cheryl, son Paul W., daughter Keli and a grandchild. Celebration of life: 3 p.m. Sunday at Breath of Life (on Rice Street), Lihue.

From TheGardenIsland.com:
Harry Ward Fisher of Kapa'a died at home on Feb. 19, 2011, at age 63. Born in California on April 20, 1947, he was a truck driver for Golden State Foods. He is survived by his wife, Cheryl Fisher of Kapa'a; son, Paul Ward (Julie) Fisher of California; daughter, Keli Fisher of Kapa'a; and one grandson. A celebration of his life will be held on Sunday, March 6, at Breath of Life on Rice Street with services celebrated at 3 p.m.

Kauai Memorial Gardens and Funeral Home assisted the Fisher family with arrangements.
Click here for a video tribute to ward