Thomas Wayne Costin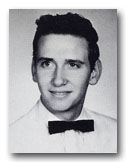 July 27, 1945 - December 13, 2000
Obituary from the Huntsville Times, December 17, 2000:
WILDOMAR, Calif. - Thomas Wayne Costin, 55, died Wednesday at a Loma Linda hospital. The funeral will be Monday at 11 a.m. at Dickey Mortuary in Fontana. Burial will be in Riverside National Cemetery in Riverside.
Mr. Costin was a native and former resident of Huntsville, Ala. He was a veteran of the U.S. Navy and was a salesman.
Survivors include his wife, Janice L. Costin; two daughters, Lisa Costin Johns of Hemet and Corrine Costin Hardy of Morro Bay; his father, Bill Costin of Hemet; one brother, Jerry Costin of Yorba Linda; two aunts, Stella Buffelo and Edna Jones, both of Huntsville; and one uncle, Leonard Gentle of Huntsville.

Riverside National Cemetery Register:
COSTIN, THOMAS W
STG3 US NAVY
VIETNAM
DATE OF BIRTH: 07/27/1945
DATE OF DEATH: 12/13/2000
BURIED AT: SECTION 50 SITE 172