Steven K Sheets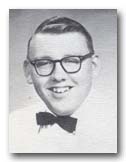 10 February 1944 - 4 July 2015
STEVEN K. SHEETS sustained cardiac arrest in his sleep and passed away in his home on Saturday, July 4th, 2015. He was 71 years old. Known to many as "Steve", he will be lovingly remembered as a dedicated husband, a proud father and a benevolent brother, uncle and grandpa. He attended Rancho Los Alamitos High School in Garden Grove graduating in 1962. He valued educated and received his Master's degree in Psychology from Humboldt State University. Steve worked as a school psychologist mentoring youths for the Alvord Unified School District for 25 years. He is survived by his wife Mary and Smokey, the family cat. A celebration of Steve's life will be held on Saturday, July 11th at 3pm at Arlington Mortuary, 9645 Magnolia Avenue in Riverside CA, 92503.
Published in Press-Enterprise from July 9 to July 11, 2015
Steve's Autobiography:
After graduation from RAHS I attended Long Beach State for one year. The following years were a struggle to complete college credits and I finally ended up back at Long Beach and graduated in Jan of 1969. I moved north to the Humboldt University area and completed graduate units following a passion for the study of the philosophy of science. Not much you can do with those units in that field so in 1979 I went back to Humboldt and began another masters degree in psychology, which I completed in 1982.
I worked for three years in the far north east corner of California and following my internship for the MA. I ended up in Lake Elsinore for one year. After that year I managed to secure a position in the Riverside area and was a practicing school psychologist for twenty five years. I retired three years ago and have gone back to my first love of studying philosophy, religion, through the UCR Osher program. It allows seniors the opportunity to take classes for a very limited amount of money (up to five classes for $125.00 dollars).
From two marriages I have two step daughters and two step sons. The most recent marriage was almost four years ago. My wife Mary, is a career professional in the non-profit business. She currently is the executive director of The Humane Society of San Bernardino Valley. She loves her job but then who doesn't love cats and dogs. We live in Riverside and plan to stay in the area unless there would be some drastic change that would force us to move from the area. With all this verbage I'll try to put the story in a time line for you.
1962 grad from RAHS
1962-1969 Many difficulties forced a lengthy time to graduate from Long Beach State University
1969-1982 More time working and 50 graduate units plus a M.S. in Psychology
1982-1984 Finished the internship for the school psychologist degree and working in the north east corner of California (Modoc County/ Alturas California)
1984-1985 School Psychologist in Lake Elsinore California
1985-2006 School Psychologist for the Alvord Unified School District in Riverside California
2005-present: married and retired
I hope this gives a ruff outline of what I have been doing for the past many years. Education has been one of the most important aspects of my life. It continues to be a major interest and a source of great enjoyment. Outside of this quest I have had some wild and crazy jobs and experiences that I would share with anyone who wants a more personal account. They range from working in the woods as a choker setter/lumberjack to riding Bahama bulls in small town rodeos.