Richard Dan Snyder, Jr.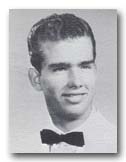 December 24, 1942 - May 15, 2008
Richard passed away on May 15, 2008, following his second heart attack. He was fortunate to have lived 13 years after his first heart attack. Richard was born on December 24, 1942.
Dawn and Richard were married for 41 years. Dawn was born in Long Beach and graduated from Orange High School. She says Richard was an "old car nut who had a special car that he loved to show to people." She adds, "Richard loved people".