Ray Johnson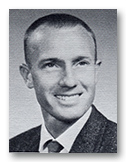 October 27, 1925 – July 19, 2016
Ray Johnson was born in Baggs, Wyoming; his family moved to the Los Angeles Harbor area in the late 1930s. From his family Ray inherited his patience, quick sense of humor, work ethic and a strong desire to help others in many ways – and let's not forget fly-fishing.
His love of teaching led him to his career choice of public education. He met Patricia Whitson at Pepperdine, and they quickly fell in love and married. Each became very close to the other's parents. Ray & Pat moved to Garden Grove in the mid-1950s and, the family grew to include Margie, Doug & Jan.
Ray spent many years as a high-school teacher and coach. His baseball teams, varsity at Rancho Alamitos HIgh School and American Legion Post 555 in Midway City, were very successful. He coached Freshman football as well, first at Rancho Alamitos and then at Garden Grove High School, and his 1969 team became the first undefeated football team in school history. He later helped develop the "Adaptive Physical Education" program, one of the first in the U.S., for the Garden Grove Unified School District, providing physical activities for mentally and physically handicapped children. He was an early member of the Fly Fishers Club of Orange County and delighted in teaching fly-tying at clinics.
After retirement, and moving to Ojai, California to be closer to Ray & Pat's granddaughters, he quickly became involved in the Ojai United Methodist Church and the Sespe Fly Fishers Club. Ray had many talents and used each one to do something for others: selling beautifully-crafted fly rods and building with wood, brick and concrete for the church and others.
Ray is survived by his wife, Pat; sister Regina Lande; daughters Marjorie (Marvin Ota) and Janet; son Douglas (Tamara Hertz); grand-daughters Katie Ota and Christine Ota; and several nieces and nephews. Ray was a man who touched many lives, doing so for the joy it gave him to see faces light up.
Services on Tuesday, July 26th at 1:00 PM Ojai United Methodist Church, 120 Church Road, Ojai, CA 93023.
Published in Orange County Register on July 26, 2016