Paula Dale Stewart Howard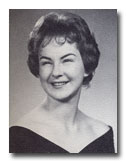 July 9, 1943 - Aug 10, 1990
Paula was married to Mike Howard, RAHS class of '59. Her brother was Glenn Stewart, RAHS '62. Thank you, Glenn, for providing Paula's obituary below:
Paula Howard, 47, teacher of developmentally disabled
Paula Stewart Howard, a Morgan Hill teacher for the develomentally disabled, died Friday of cancer. She was 47.
Mrs. Howard, a resident of downtown San Jose for 19 years, was born in Wichita Falls, Texas, in 1943. She graduated from UCLA in 1966 with a degree in art and received her teaching credentials from San Jose State University in 1972.
"She had a tremendous gift for communicating with her students and a lot of kids came back to visit her after they went on to high school," said her husband, Mike Howard. "She was able to motivate a lot of her students."
Mrs. Howard helped develop the first infant stimulation program in Santa Clara County and was involved in the Toronto Women's Caucus.
She is survived by her husband, daughters J'Amy and Kimberly, sons Greg and Larry, brother Glenn D. Stewart, and sister Janice Cass.
A memorial service will be at 2 p.m. Monday at the San Jose State Studen Union ballroom.
The family asks that donations be made to the American Cancer Society.