Patrick Allan Monahan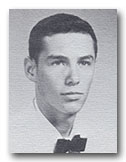 April 4, 1944 - March 17, 2014
Patrick Allan Monahan, affectionately called Pat, passed away peacefully with his family by his side on Monday, March 17, 2014 - St. Patricks Day. He was 69 years old.
Pat was one to embrace life to its fullest, enjoying the best that it had to offer. He was a talented and informed storyteller and historian, which made him an exceptional high school teacher - his life's vocation. Compassion and his big heart let him share his blessings with others in quiet and subtle ways. Pat's curiosity for exploring the world and his interest in meeting new people allowed him a full, enriched life.
Pat was born on April 4, 1944, in Minneapolis, Minnesota, where he was raised. He moved with his family to Southern California in 1960. Pat excelled and collected numerous awards in swimming and water polo in his high school and college years. This eventually created an opportunity for him to play water polo in Europe for the University of Heidelberg, Germany, while also opening the door for him to work as a coach. He coached both water polo and swimming here in the US and spent several years working as the Northern California Aquatic Director for Boy Scouts of America.
Pat developed a strong interest in the German culture and literature, influenced by his time overseas. He received both his Bachelors and Masters degrees in German. His love for all things German was acknowledged by achieving membership in Delta Phi Alpha, an honorary German fraternity.
Pat was a teacher for 35 years. Most of his teaching years were dedicated to teaching German and social studies in the Lompoc Unified School District at both Lompoc and Cabrillo High Schools. He retired in 2003.
Throughout his life and retirement, he enjoyed aquatic and outdoor activities, reading, horseracing, and spending time with his family, especially his granddaughters. He was a seasoned traveler, and Hawaii was a favorite destination.
Pat is survived by his wife of 44 years, Keiko; his daughter, Paulette, her spouse, Vince, and his beloved granddaughters, Ava and Katie. Additional family survivors include brothers, Tom, Dick, Harry, and Jim; and sisters Sandra and Mary Lou, as well as numerous nieces and nephews. He was preceded in death by his parents, Thomas and Lucille Monahan.
A celebration of life reception will be held on Sunday, April 13, 2014, at Ventana Grill, Pismo Beach, a spot that reminded Pat of Hawaii. In lieu of flowers, donations can be made to the American Diabetes Association, www.diabetes.org and/or the American Heart Association, www.heart.org
Obituary from the Santa Maria Times, written by Paulette Monahan.