Patrice Kathleen Murphy Gage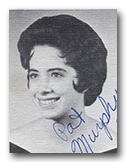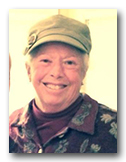 April 8, 1944 - October 19, 2014
Obituary from the Darby Funeral Home website www.darbyfuneralhome.com/obituaries/Patrice-Gage/:
Patrice K. Gage, age 70 of Canton, GA passed away on October 19, 2014 at Embracing Hospice. A graduate of Cal. State, Fullerton, Alpha Delta Pi, she moved to Texas while husband John attended pilot training. Leaving Texas in 1977, Patti and John moved to Jeddah, Saudi Arabia where she worked for the Civil Service, Army Corps of Engineers, Riyadh District. During her time in Jeddah, she traveled extensively in Europe and the far East with John, who was a pilot for Saudi Arabian Airlines.
After Saudi Arabia, Patti and John spent a short time in Virginia, then moved to Melbourne, Australia while John was a pilot with Ansett Australia. Once again, Patti traveled extensively through Australia, New Zealand, and Asia. After 9 years in Australia, Patti and John moved to Anchorage, Alaska where patti worked in Civil Service, Army Corps of Engineers, Alaska District, Elmendorf AFB while John was a pilot with EVA Airlines, Taiwan. In 2002, Patti and John moved to Vicksburg, Mississippi where Patti was again with the Corps of Engineers, Mississippi Valley Division.
Patti retired from the Corps in 2007 when she and John moved to Canton, GA. She was an avid tennis player and was a team player and captain on several teams.
A memorial service will take place on October 25, 2014 at 11 AM at the Darby Funeral Home Chapel. Interment will be at Georgia National Cemetery. Mrs. Gage is survived by husband John Gage of Canton, GA and brother Michael J. Murphy of Tucson, AZ. The family request that in lieu of flowers donations may be made to the American Cancer Society. The caring staff of Darby Funeral Home is handling these funeral arrangements.
To send flowers or a memorial gift to the family of Mrs. Patrice Kathleen Gage please visit our Sympathy Store.
Note from webmaster: My heartfelt sympathies go out to Patti's husband John and her family. Thanks to John and Patti's many friends on facebook for sharing their great photos!