Normand Garber Poulshock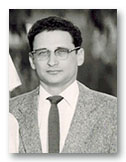 February 7, 1926 - July 5, 2003
Normand Garber Poulshock, Composer and Music Educator, February 7, 1926 – July 5, 2003
Many of us remember Mr. Poulshock fondly from our seventh grade class at Marie L Hare in 1956. Thanks to David Poulshock, Normand's son, for the following bio:
Normand G. Poulshock was born in Philadelphia, Pa. in 1926. After attending public schools in a suburb of Los Angeles he served in the U.S. Navy from 1944 to 1949. He earned B.A. & M.A. degrees in Music and Music Education at Long Beach State College.
Poulshock was a public school educator from 1950 to 1977, and taught in Garden Grove, California; Klamath Falls, Oregon; and Edmonds and Bellevue, Washington. In the late 60's, he pioneered the use of electronic music to teach music fundamentals in Washington State public schools. He was a Lecturer in the Music Department of Pacific Lutheran University from 1975 to 1994.
In addition to his public school and college teaching practice, Normand Poulshock provided private instruction to hundreds of students over the course of his career – teaching piano, guitar, French Horn, and other instruments. Loved and respected by his students, he was still teaching privately in 2003, at age 77.
Compositions by Poulshock include: "A Short Symphony for Synthesizer & Orchestra", commissioned & performed by the Seattle Symphony; a Viola Concerto performed by the Cascade Symphony; several jazz style compositions for strings; many band and orchestra compositions; pieces for brass quintet and brass trio; sonatas for piano, French horn, trumpet, clarinet, violin, trombone, English Horn, and piccolo; and numerous "teaching" pieces for piano, two of which were published in the WSMTA (Washington State Music Teachers Association) Centennial edition.
The Washington State Music Teacher's Association named Poulshock Composer of the Year in 1990, commissioning a violin sonata. His piccolo sonata was performed at the National Flute Conference in 2000. In the 1960's, he was a founder and conductor of the Klamath Symphony.
Poulshock also served as Composer in residence for Cispus Music in the Environment Summer Music Camp for 12 years. He was also sought after as a clinician and adjudicator for composition, solo and ensembles contests, electronic music, and improvisation.
As a performer, Poulshock played French horn in the Honolulu, Long Beach, and Anaheim Symphonies; viola in the Cascade and Pacific Lutheran Symphonies; and jazz piano in various night clubs. Until his recent illness, he continued performing weekly, with friends at the local Festival coffeehouse located at the Port of Ilwaco.
A civic-minded man, Poulshock served as a trustee for the Surfside Homeowners Association, on the Planning Commission for the City of Ilwaco, and was on the Board of the Long Beach Peninsula's Water Music Festival.
Biographical information about Poulshock appears in "Outstanding Secondary Educators of America", 1971, and "Who's Who in the West", 1993, among other publications.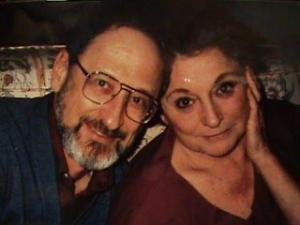 Normand and Barbara Poulshock
Photo from the website www.macjams.com/song/50918, courtesy of Normand's son David Poulshock