Nellie R Burchfiel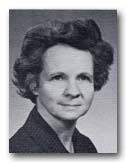 20 February 1916 - 3 February 1992
Nellie Burchfiel's son George reached out to Walt Unger after discovering a batch of letters and other mementos from his mother. He also shared some thoughts and memories on the phone with Betty Cadwell Barry - thoughts which he gave us permission to post. In a message to Betty, George writes:
There have been dozens of times in my life that former students have expressed their admiration for my Mother, but none have been as well timed nor as elegant as your call last night. Thank you.
My wife Sue and I had turned the football game off just especially to talk about her before you called. Your kind (and perfectly timed) words reminded us of what we already knew; she was a great teacher and inspired many young people to intellectual and emotional maturity. I doubt though that many students could have understood the complexity of her life, balancing a 40 year education career while being a wife and mother of six children. She wasn't exactly a conventional mother. My sisters and I still get a good chuckle recalling how she would frequently wake us up in the morning by stomping loudly around the house quoting Longfellow in her most melodramatic and booming stage voice…"Life is real, life is earnest, the grave is not it's goal, dust though art to dust returneth was not spoken of the soul".
In addition to her dramatic flair, she could argue on behalf of her liberal politics with surgical effectiveness. The interesting thing about her politics though is that in addition to being fiercely liberal, she was concurrently deeply patriotic. One time at the dinner table I made some crack about "Tricky Dick" . She stopped mid-bite and scolded me for referring to the President of The United States in that way even though she really disliked Richard Nixon. At any parade, she would stand in reverence whenever a U.S. flag would pass by. She got tears in her eyes and would choke up a little whenever she heard the Battle Hymn of the Republic played. She was flummoxed by my conversion to conservative principals in my 30s but frankly, I think she would be disgusted today to see how much her Democratic Party has largely been taken over by ideologues with no appreciation of (or even disdain for) our country's greatness.
Except for Dodger and Laker games with my Dad later in life, I can't ever remember her watching television. There were only two movies my family ever went to see together: 1) To Kill a Mockingbird. And 2) West Side Story. An odd mix. Our house was rarely tidy, but it was mostly clean, cluttered, and lived in. I can't tell you how many times there were students staying with us for a few days, or other teachers, or some other stranger down on their luck. On several occasions she loaned money to students and even (at least once) cosigned a loan. Every year in June (except for the few years she was an Administrator at Santiago), there would be a stream of graduates coming by the house for personal farewells.
I think your class was probably the favorite in all of her career. We had moved to Garden Grove from St Jo Texas in the summer of 1961 (I was nine). I can imagine that going from a dusty little town with very few gifted students and little intellectual stimulation to a large new high school smack dab into the middle of a class of high achievers with other progressive faculty members was like entering the promised land for her. Add to that the close proximity of huge libraries, museums, music, art, scenery, and other attractions, she was off to the races (literally… Riverside International Raceway). She is certainly smiling down right now on your group, feeling proud that you have all done well in life and pleased that you remain a close knit group. Although as a child I would have liked her to myself, as an adult I can look back and understand that she stretched herself as thin as she dared with all the people and things she loved. When she died in 1994 she and my Dad had been married 55 years and had 15 Grandchildren and several Great Grandchildren. Our families continue to grow and the positive impact she has had on our lives is indelible. That is a blessing I am glad to have shared with you too.