Michael Clair Poquette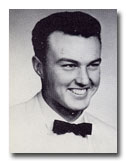 June 14, 1944 - December 20, 2003
Michael Poquette Obituary
Services for Michael C. Poquette, 59, will be held at 2 p.m. Tuesday, Dec. 30, 2003, at the Pacific Christian Center in Santa Maria.
He died Saturday, Dec. 20, 2003, at his home in Paso Robles.
Survivors include his wife of 36 years, Candace; daughter, Christian Anne Miller, of Lompoc; sons, Dustin Michael Poquette, of Lompoc, and Brett Aaron Poquette, of Paso Robles; mother, Constance Poquette; and sister, Hope Derrick, of Santa Maria.
In lieu of flowers, a memorial fund has been established at Coast Hills Federal Credit Union in the name of Michael C. Poquette for the various charities he wished to contribute to, or contributions may be made to the American Cancer Society.