Marvin Bates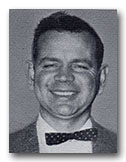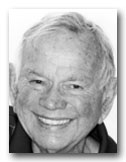 September 16, 1929 - January 4, 2012
1929 ~ 2012 On Wednesday, Jan. 4, 2012, the world suffered a great loss when Marvin Frederick Bates closed his eyes and peacefully passed on to be with his beloved Cynthia, who left this world just a short time ago. "He was one of the good ones," and "He was such a kind-hearted man," are just a few of the things people have had to say about Marvin's passing. He was a joy to be around and his smile lit up the room. He continued to live a purposeful life up to the end, having learned creative things, meeting new people and as always, helping others, in spite of his unwilling widowerhood.
Marvin was born at home in Anaheim, Calif., in September 1929 to Rose and Fred Bates. He met his future wife, Cynthia Dudley, at Anaheim High School in 1946 - they were married in 1947. They both worked at Knott's Berry Farm while attending Long Beach State College, where they earned their teaching credentials. Marvin also worked on the oil rigs for a time.
He taught shop and was a coach and counselor at Rancho Alamitos High School, where he touched the lives of many students who still remember him with fondness and gratitude. He was proud and excited that he was recently asked to attend a reunion there. Marvin and Cynthia combined their love of teaching with their love of traveling. They taught at Army schools in Germany for two years and in England for one year at Kingsdale Comprehensive School. They also taught in Russia and Mexico.
In retirement, they moved to Ventura, Calif., where they were active in Global Volunteers. They especially enjoyed Mexico, and for a time owned a second home in Guanajuato. They enjoyed entertaining guests there from the states who came to visit for bridge tournaments, etc. Docents from the Ventura County Museum fondly remember a trip to visit and tour Guanajuato.
Marvin was an avid reader and mariner. He loved the sea, sailing and going scuba diving. He and Cynthia walked their dogs every morning on the beach taking in and appreciating the beauty of the world. They had voyaged around the world having made lasting friendships wherever they landed. They had recently gone to China and walked a portion of the Great Wall.
Like Cynthia, Marvin was an exceptional artist. He worked well with his hands and created lovely sculptures. After he retired, he rebuilt boats at his own "Bates Boatyard" in Ventura. He also gave his time freely to teach "English as a Second Language" to adults, simply wanting to help others in need. He was an avid bridge player and enjoyed weekly yoga lessons, exercise classes and dancing. He was an intellectual and a pacifist. He was blessed with an amazing and romantic 63 year marriage to his true love and best friend - his soul mate. They always encouraged each other and each was the other's biggest fan.
Marvin was a gentle and loving husband, father, grandfather, great-grandfather and dear friend to many. He enjoyed spending time with his great-grandchildren, family and friends near and far. Marvin is survived by his daughter, Meredith Bates of Morro Bay; granddaughters Michelle Bates-Benetua (Brian Murphy) of Seattle, Wash., and Erin Bates-Meehan of Sacramento, Calif.; and four greatgrandchildren Aidan and Aliya Murphy and Kahlil and Simone Howard. He is also survived by his sister, Jean Ruther (Vernon); niece, Julie Arkison (Jim); as well as a great nephew, Shane Anderson, all of Carefree, Ariz. He leaves behind many, many friends and fond memories. He was preceded in death by his daughter, Thomasin; and wife, Cynthia.
A celebration of his life is planned for Sunday, Jan. 29, 2012. Details will be announced. In lieu of flowers, please donate to Livingston Memorial Visiting Nurses Association & Hospice, 1996 Eastman Ave. Ste. 101, Ventura, CA 93003.
Published in San Luis Obispo Tribune on January 15, 2012