Karen Jo Kelso Robles
April 1, 1943 - February 19, 2012
This memorial was created by Laura on 19 Feb 2012 in memory of her mother, Karen Jo Robles.
Early Sunday morning our beloved Karen Robles was called home just after 3:00 a.m. after many complications from heart surgery she under went early this year in The Woodlands, Texas where she has lived for 20+ years.
Born April 1, 1943 to Mary Ray and Russell Kelso in Missouri, shortly thereafter Karen and family moved to Garden Grove, California where she graduated from Rancho Alamitos High School.
Shortly after her first marriage it became clear to Mom that her purpose on this earth was to foster children, which led to the adoption of her son Larry Dean in 1966 and three years later the adopting of Laura Ray all while fostering several children in between and somehow finding time to become a police officer for the City of Corona Police Department.
It was during this time that my brother Larry was diagnosed with Duchenne Muscular Dystrophy and thus began her life long dedication to helping find a cure. Along with her goal to fight MD, came many challenges that come with raising a son with MD. Every ounce of energy she had went into providing an environment for her children to thrive and because of her tough love and constant encouragement, Larry walked longer than expected and prolonged the time before having to depend on a wheelchair. Mom pushed Larry to be the best he could be and would not accept any less from him. She expected this from us all.
Starting her life over, Karen moved Larry and Laura to Houston, Texas where she put her law enforcement skills to use and worked as a security and fraud investigator for Marshall Fields and Sacks Fifth Avenue. Karen then worked for and retired from the Houston Chronicle after 16 years.
I believe that my mother's greatest accomplishment was how she nurtured, pushed, and challenged my brother Larry to far exceed any limitations that were put on him when he was diagnosed with MD at the age of five. He graduated high school, dated, went to University of Houston AND lived in the dorm and married his high school girlfriend Betty. I am confident that much of this never would have been achieved without the love and encouragement she gave Larry until he lost his fight at the age of 25. For those that do not know, this is approximately 8 years longer than his life expectancy.
If you knew my mom you know about the passion and commitment she had for making all of her kids, our friends, neighbors' kids and classmates feel loved. It did not matter "how" we became her kids...adopted children, step children, it did not matter to Mom-o, they were all her own.
Karen is survived by her daughter Laura Lestus and husband Scott, Ashley Everhart and husband Nathan, Betty Hernandez and husband Adrian, Richard Ray Robles and wife Julia, Catherine Monks and husband Scott and Cosette Robles.
She has many grandchildren, including David Anthony, Ryan, Raeanna, Skylar, Mackenzie, Riley and June Nicole, and lots of extended family in San Antonio, Texas and Alberta, Canada
I would get in big trouble if I left out her beloved kitties Sancho, Selina and Ditie... Not only did she rescue children but animals too...lots of them!
Thank you so much for the outpouring of love, support and prayers for our whole family through this journey. There have so many Blessings, too many to count and we are grateful for every single one.
If you would like to honor Karen you can continue to help her to fight for a cure for Duchenne Muscular Dystrophy by making a donation in her name to Muscular Dystrophy Association:
mda.org/help/donate/,
click on "Gift in Memory" and fill in the form.
Karen has chosen to donate her remains to Gen Life institute to continue the advancement of research that can change the health and welfare of people across the globe.
This memorial was taken from the Christian Memorials website.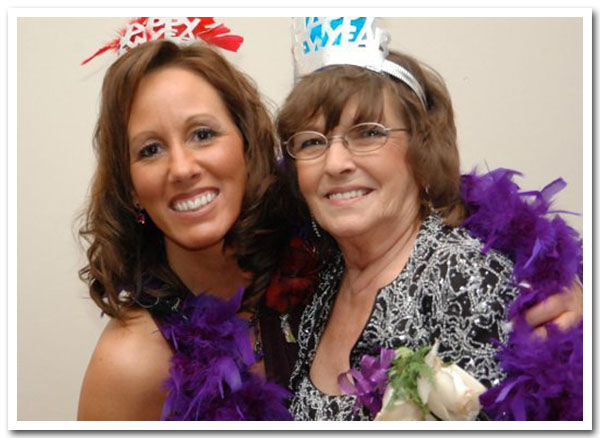 Karen Jo Kelso Robles and her daughter Laura Lestus