James Noel Bollschweiler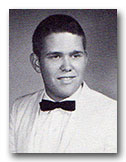 March 5, 1943 - October 20, 2012
Birth: Mar. 5, 1943, Long Beach, Los Angeles County California, USA
Death: Oct. 20, 2012, Stanton, Orange County California, USA
Born to Elvira Deschamps & Earl Winston Bollschweiler. He grew up in Southern California and married Karma Lee Braithwaite on Feb 20, 1965 in Ephraim UT. Later sealed in the Los Angeles Temple in 1966.
Survived by five children, Paula, Clare, Fredrick, Rebecca and Leigh Ann. He was preceded in death by his parents and his wife Karma who passed away just one week ago on Oct 14, 2012.
He worked in aerospace for McDonald Douglas. He enjoyed retiring to Kanab UT. He loved model railroading and being an ameteur radio operator. He had recently moved back to CA to make sure his wife received the medical treatment she needed. He was a very patriotic & spiritual man.
Funeral services held Oct 27 in the Kanab UT Kaibab Stake Center. Burial in the Manti UT Cemetery. Arrangements made with Mosdell Mortuary of Kanab.
Burial: Manti Cemetery, Manti, Sanpete County Utah, USA
Created by: Jan Dixon, Record added: Oct 29, 2012, Find A Grave Memorial# 99844143