Gail Caserta Connell
June 14, 1945 - August 14, 2009

"It's amazing. The love goes with you."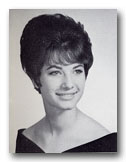 That's the line the spirit of Sam turns and says to his love, Molly, just before taking his last walk into the light. For those who've seen the movie Ghosts, you know that line and the look on both of their faces before Sam takes his final leave. It's also a piece of dialogue that's been playing over and over in my head since I stumbled across the news posted here that the first true love of my life, Gail Caserta, was taken from us last year in a traffic accident.
I've been asked if I'd like to write a memorial note of some kind and have it posted here. Well, I've attempted several times to come up with a page of meaningful words that spoke from the heart. Words and recollections that weren't just a typical laundry list of Gail's loves, passions and interests. To be honest, when I first sat down at the computer, I tried piecing together what some consider a proper memorial message. Thing is, the memory of my forever young sweetheart, the one who's always owned the biggest chunk of my soul through the days of decades and dust, didn't seem, initially, to read like much more than what a casual friend, acquaintance or even staff reporter could come up with. I also didn't want it to end up sounding mostly about me. I wanted it about ... the two of us. And so it will be.
Gail and I met on the school quad during a lunchtime afternoon in late '61. It was our junior year, we were both young, starry eyed and 16 and she was the most beautiful girl I'd ever laid eyes on.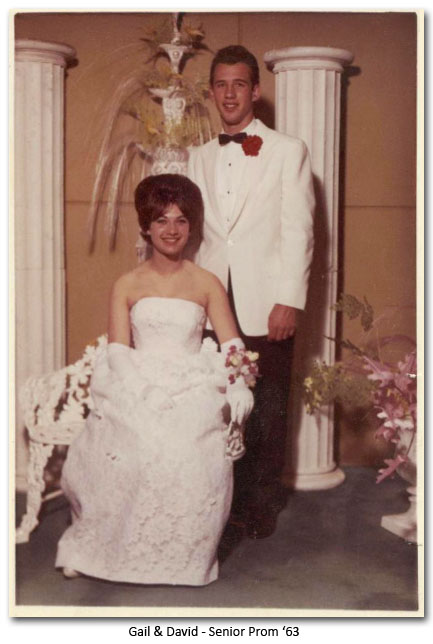 From that point forward, with a few minor bumps in between, we were to be one of those Rancho couples who were, seemly, joined at the hip. Or at least joined at the hands as we walked from class to class. I can tell you from the heart that I always felt like one of the luckiest guys on that campus. Believe me, she could have had her pick. But I guess the gods were smilin' on me.
Old radio jocks tend to use songs and titles as some kind of reference point. I have a few in mind for Gail and me, but one that jumps out is from an old Letterman album "A Song For Young Love." A lyric from the title track flows like this:
- the first love you know ...
- that warm tender glow ...
- happens but once ...
- and so ...
And so, 47 years later, the line still sings true. It does.
After our '63 graduation, we were still together; trying like of a lot of 18 year olds to come up with some kind of life plan for the next 50 years or so. See, when you're young, a little shaky and unsure of where this new adult bus is going to take you, it can be a struggling time, but one made for exploring and discovering new stuff. It was for us.
Over the next few seasons, our paths began to take different routes. Gail moved back to San Francisco for a few years, but we still maintained that "can't ever crack - first true love connection." I'd visit her a couple times a year and she the same. Thing is, life has a way, fight it or not, of diverting you down roads and alley ways you never knew existed ... or even considered checking out. She eventually moved back to Orange County in the late '60s, but by then the latest Atlas life map didn't show our paths finally joining at the folk.
By '68, I'd gone back to what I'd got my first sniff of in 1961: being on the radio. But I won't do that bio here. I'll just wait and see if anyone writes it up after I, too, finally end up listed on one of these No Longer With Us links. By 1969, Gail and I moved apart for good. And the next year, she'd seemly found the happiness she always wanted, but with someone who wasn't me. All that lovely girl really ever wanted was to be married, have a nice home and a family to care for. Unfortunately, and as the Rolling Stones once sang, "You can't always get what you want." At least not right away.
By the mid '70s, my sweetheart and I still managed to get together from time to time and chat about those fun days of high school, burgers at Bob's, that fabulous all night grad party at Disneyland and of course, the '63 Senior Prom. The tougher stuff we didn't really dwell on. It seemed to us, those kinds of infrequent meetings weren't designed for all of that. For me, and each time we met, Gail always looked the same. Just as lovely as ever. And to my own dying day, she'll always remain the most beautiful girl these tired eyes have ever seen. Problem is, after dealing with her news over the past few days, I'm wondering if these tired eyes will ever be fully refreshed. Right now? I'm not so sure.
I'd always wished that Gail would be able to find the life and happiness she was searching for. I hope she did. Truth be told, over the last 25 years, I'd hoped we might bump into each other one more time and catch up on ... how we're doin'. On occasions, I've been asked if I have any regrets about the way things turned out for us. You bet I do. But in the end, you can't change ... the changes. You just do the best you can and deal with the hand He gave you.
Meanwhile, the date of August 14th will, for the rest of my days, be impossible to overlook. It's the date Gail took her own walk into the light. It's also ... my birthday. Go figure.
I'm not familiar with the working aspects of psychic life, but I always believed that the link and love between Gail and me, however much remained, would never completely burn out. It's now been a full week since I first came across the news that would stab my heart. But that dagger in the chest is still twisting. I guess I'll have to let someone with higher connections figure out the 8/14 aspect ... and why. For me? It's too incredible to comprehend.
As of this morning, I realize I'll have to pull myself together soon and try as best I can to get the mind back on track. It's proving to be a little tough, though, because someone keeps laying rows of pennies on the rail. Not quite sure who it is. But with any luck, I won't get derailed any time soon and still have a few decent days left here on planet Earth.
In the meantime, I can see your bright light from here, my darling. God bless your sweet heart. I still love you, I will always love you. And forever.
See ya', kido.
David
---
Orange County News Article (submitted by Ronnie Guyer):
Gail Connell, 64, of Garden Grove, died at a hospital Friday, August 14th at 00:21 hours after being hit by a car on Beach Boulevard on Thursday night.
Connell was crossing Beach Boulevard just north of Chapmen Avenue at 10:54 pm, when she was struck by a 65-year-old man who was driving a Lexus north on Beach Boulevard, authorities said.
According to her brother, Connell had just been dropped off by a bus across the street from her job at the Walgreen's store. Her brother, Michael Caserta, also of Garden Grove, said that Gail was a native of Orange County, who attended Rancho Alamitos High School (class of 63) and who had a passion for Go-Go dancing as a teen.
"I can remember her doing the "Watusi" for us kids," Caserta said.
Connell was reportedly crossing the street eastbound when she was hit. Authorities said they are investigating whether Connell was walking with the crosswalk when she was hit by the car, officials said.
She suffered severe injuries, and was taken to a nearby hospital, where she died a short time later.
No citations and no arrests have been made, Boyne said. The incident is still under investigation.
"Her first sweetheart I remember was a hip radio Disk Jockey (see prom photo). In the days when large AM radio stations like KHJ were the only places you could find rock and roll," Caserta said.
Boss Jocks, as DJ's were sometimes known, were considered local celebrities and I can remember his Corvette was pretty cool, Caserta said.
Connell was a flight attendant on the now defunct P.S.A. or Pacific Southwest Airlines. In the 1970's she went to work for the Pacific Bell telephone company. She also married Howard Connell in the 1970's. Upon their divorce she never remarried. She had no children.
Note: According to the Orange County Sheriff's Dept press release Gail passed away on 08/14/2009 at 00:21 hours.