Eloise Meador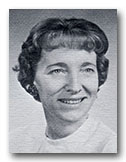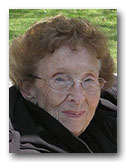 October 1, 1919 - January 8, 2013
For those of you who attended Rancho in the 60's, 70's, and 80's I am sad to report that Eloise Meador passed away unexpectedly yet peacefully on Tuesday. Eloise Meador was a great teacher, Dean of Girls, and Girls League advisor. She was one wonderful lady. The "girls of Class of '64 from Rancho Alamitos High School" have lovingly called her "the firecracker". We all are keeping her daughter, Barbara Callard (Class of 64), and her whole family surrounded in loving prayers and comfort as they move through this too sudden and painful loss! We love you Eloise and know the angels are rejoicing at your arrival! Eloise will be buried with her husband, Harry, in Missouri. There will be a Celebration of Eloise Meador after the family returns from Missouri. I will post the details when they are finalized.
Kris Howard Cox, Class of 64
Obituary from the Orange County Register: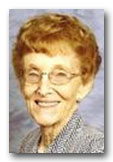 Meador, Eloise, 93, died Tuesday, January 8, 2013 in Dana Point, CA. She was born October 1, 1919, in Bentonville, MO, the daughter of James R. and Nellie (Weaver) Boring.
Eloise loved people, and everyone loved Eloise. Her smile lit up a room, her stories entertained all who heard them and her empathy was unmistakable.
Eloise grew up in Warsaw, MO, on the Lake of the Ozarks and graduated from Warsaw High School in 1935. She went on to attend the University of Missouri and was a member of Alpha Chi Omega sorority.
After college, she traveled to southeast Missouri where she landed her first teaching position at Fredericktown High School. Eloise taught Business Education, including typing, short-hand, and bookkeeping. When the school was in need of a foreign language teacher, she completed "correspondence" courses to qualify to teach Spanish. It was here that she met her husband of 62 years, Harry Meador. While in Missouri, Eloise was very active as a Girl Scout Leader. She was also a member of the VFW Ladies Auxiliary, serving in the position of Missouri Department President from 1953-1954, and a member of the Eastern Star, achieving the position of Worthy Matron. She was a member of the First Baptist Church where she was choir director and Sunday school teacher.
In 1961, the family relocated to Garden Grove, CA where Eloise taught typing and shorthand at Rancho Alamitos High School. Eloise was a co-sponsor of Girls' League and could be seen at all sporting events as well as plays and other activities. Eloise returned to Cal State Long Beach to get her Master's degree. In 1965, she became a counselor at Rancho and remained in that position until she retired in 1985. Her devotion to her students was renowned. Many have recalled over the years how vital her mentoring was for gaining entrance to college and developing their future career paths.
In retirement, Eloise enjoyed participating in the Garden Grove Assistance League and the Garden Grove Chapter of the American Association of University Women. Throughout her life, she was an avid bowler and continued enjoying the game until she was 87. In 2007, she moved to Dana Point, CA, to live with her daughter, Barbara and son-in-law, John Callard, the latter of whom passed away in 2008. She was a member there of South Shores Church.
Eloise was always ready when anyone said, "Go." She traveled extensively. She loved going to restaurants, attending USC football games and watching "Wheel of Fortune."
Small in stature but larger than life in spunk and spirit, Eloise was a role model to many over her long and productive life. She was full of grace, compassion and dignity...with a healthy dose of mischief thrown in.
She is survived by daughter, Barbara; grandson, Chris Callard; great grandchildren, Ryan, Kate, Cassie, Chloe, Autumn and Cheyenne Callard, Collin McCormick (Krysti); and great great grandchildren, Mason and Liam McCormick.
Services will be at South Shores Church, 32712 Crown Valley Parkway, Dana Point, CA on Saturday, February 2, 2013 at 2:00 p.m. In lieu of flowers, donations may be made to the Rancho Alamitos Alumni Association Scholarship Program and mailed to 11352 Dale St., Garden Grove, CA 92841, attn: Rancho Alamitos Alumni Association.
Newspaper clipping from the Orange County Register - January 29, 2013
Courtesy of Alice Cather