Donna Jo (Muto) Fairfield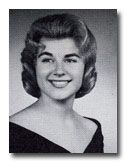 January 2, 1943 - June 21, 2010
The following obituary was taken from the June 25, 2010 edition of the Orange County Register:
Fairfield, Donna Jo, 67, died June 21, 2010 with her family by her side in Placentia, CA. A memorial celebrating Donna's life will be at 2:30 p.m., Tuesday June 29, 2010, at the Yorba Linda Community Center.
Donna was born January 2, 1943 in Maywood, CA. She grew up in Garden Grove, CA. where she graduated from Rancho Alamitos High School. At 19 she married Garry Fairfield and would have celebrated her 49th wedding anniversary on August 4th. They moved to Placentia in 1970 and raised three boys and hundreds of their friends. She never missed a baseball/football game or wrestling match. She donated over twenty years as a board member for Little League baseball, JAA, Pop Warner and El Dorado football.
It was Donna's house, for 38 years, where young people of Placentia gathered. After dedicating 46 years to Boeing she retired and became a full time R.V.er enjoying the fruits of life she so much deserved. Donna is survived by her husband, Garry; parents, Everett and Bernice Willey, three sons, Robert, Scott and Timothy; two daughters-in-law, Mary and Elizabeth, five grandchildren, Tiffani, Kody, Bradley, Camron, and Alexa; one sister, Linda and three step siblings Chuck, Cindi and Cheri.
In lieu of flowers, donations may be made to the Helping Hearts 4 Friends Foundation, P.O. Box 23, Yorba Linda, CA. 92885-0023 (Helpinghearts4friends.org)
McAulay & Wallace Mortuary