Don Hemme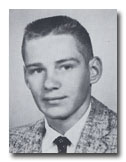 October 19, 1942 - June 25, 2007
Obituary from the dailyiowegian.com, June 28, 2007:
Donald A. Hemme
Donald A. Hemme, age 64, of Creston died Monday, June 25, 2007 at the Greater Community Hospital in Creston.
He was born the son of Donald W. and Phyllis R. (Pratt) Hemme on Oct. 19, 1942 in Erie, Penn. He graduated from the Rancho Alamitos High School in Rancho Alamitos, Calif. He later graduated from Riverside City College and Cal State University at San Bernadino, Calif., with a degree in public administration with a management emphasis. He also attended the EDGE Learning Institute where he received his MBA courses.
Donald served his country honorably during the VietNam conflict with the U.S. Army from Oct. 18, 1966 till Oct. 8, 1968. He worked in many management positions during his lifetime - 1977 to 1990, he was employed with the Western Municipal Water District after which he was employed with the Elsinore Valley Municipal Water District as an engineer planning manager. Later he founded D.A. Hemme Associates and was chief executive officer and was president and CEO of Mid-American Consulting Group. He was a charter member of SCCAMA and Automated Mapping/Facilities Management International; a member of Wayne County Development Corporation; National Rural Water Association; Iowa Rural Water Association and was a member of American Legion Post # 68 in Corydon. He was a member and Sunday school teacher at the New Providence Baptist Church in Confidence.
On Nov. 25, 1989, Donald was united in marriage to Patricia Rissler in Moreno, Calif.
He was preceded in death by his parents.
Donald is survived by: his wife, Patricia (Rissler) Hemme of Creston; son, Ryan Hemme of Medford, Ore.; stepsons, Nicholas Garvey of Sycamore, Ill., Todd Trautvetter and his wife, Shauna of Springfield, Ill., and Shane Trautvetter and his wife, Sherry of Sycamore, Ill.; daughter, Dawn Manzano and her husband, James, of Medford, Ore.; 10 grandchildren; brothers, Dennis Hemme, Randy Hemme, Bobby Hemme and Ronnie Hemme of California.
Funeral services will be held on Saturday, June 30, 2007 at 10 a.m. at the Schmidt Family Funeral Home in Centerville with Rev. Dale Shadonix officiating. Burial with full military honors will be held at the Confidence Cemetery near Confidence.
Visitation will be held on Friday, June 29, from 1 to 8 p.m. at the Schmidt Family Funeral Home with the family present from 6 to 8 p.m.
Memorials can be made to either the Gideons or American Diabetes Association and left at the funeral home.
The Schmidt Family Funeral Home in Centerville, Iowa is caring for the Hemme family at this time and condolences can be sent at: schmidtfamilyfuneralhome.
http://dailyiowegian.com/obituaries/x519473462/Donald-A-Hemme