Dennis M Flanagan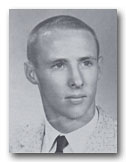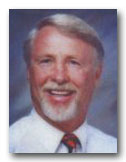 December 13, 1941 to April 26, 2008
My Twin brother Dennis taught and was the head football coach at Rancho in the early 70's.
Dennis actually taught Spanish and some French for 40 plus years at both Garden Grove and Rancho high school. He also taught both high school and middle school in the Laguna Beach school district.
In high school at Rancho he was all league in both his junior & senior years as a varsity running back in football. He was co-captain of the football team his senior year (58/59). He also lettered in varsity track in both his junior and senior years. He went onto Orange Coast Junior College were he played one year of football and was all Eastern Conference. He then went onto West Texas State College, where he played two years of football and graduated.
Both Dennis and I were fortunate to be selected to the first Orange County North/South football game in 1959 (50 Yrs. ago, yikes). We of course were on the North Squad who won the inaugural game. We also played in the inaugural Rancho Alamitos vs Garden Grove high school football game which we also won. ~ Dan Flanagan
---
Dennis M. Flanagan played football at Rancho Alamitos H.S.; Orange Coast College and at West Texas State University (West Texas A&M). Dennis taught French and Spanish. He taught for 37 years. He passed away after battling cancer in 2008! Dennis was a beautiful friend, husband, father and mentor! God Bless You Dennis! Peace be with you! ~ Bill & Don Moriarty - RAHS 1959

---
Dennis has a permanent obituary in the Orange County Register's Legacy Section. To view the obituary, click here.