Danny Lee Jantzen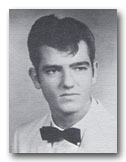 May 5, 1944 - January 3, 2002
Danny's daughter, Dena Mattocks writes:
"My Dad passed away from a heart attack when he was only 57. We miss him."
The following obituary is from the Monday, February 4, 2002 edition of the Payson Roundup. There is a discrepancy between the date of death in the obituary and the Social Security Death Index:
Danny Lee Jantzen, 57, of Payson, died Feb. 3, 2002, in Payson. He was born May 5, 1944, in San Francisco. Mr. Jantzen worked hanging drywall for construction.

Survivors include his mother, Cora Jantzen of Payson; daughter, Dena Mattocks of Fountain Valley, Calif.; son, David Jantzen of Huntington Beach, Calif.; and two brothers, Jerry Jantzen of Fountain Hills and Gary Jantzen of Payson. He was preceded in death by his father, Russell Jantzen.

Services were held Tuesday, Feb. 5 at Messinger Payson Funeral Home. Arrangements were handled by Messinger Payson Funeral Home.