Charlene Louise Metzker Kellogg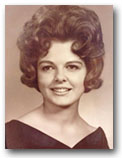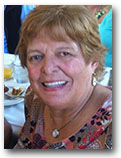 August 21, 1944 - February 9, 2014
Cherished and loving Wife, Mother, Grandma, Sister, Aunt, Cousin, Nurse and friend entered into eternal life on Sunday and was surrounded by her family and friends.
Charlene was born at California Hospital in LA, CA on August 21, 1944 to her parents, Warren Frederick Metzker and Jeanne Margaret "Mohr" Metzker. Charlene was married on May 16, 1964 to William "Bill" Owen McVay, from Salem, Oregon and they had two darling daughters, Elisabeth and Dawn McVay.
She remarried on April 19, 2008 to Carl Dean Kellogg and truly found her companion for life. Her father, Warren Frederick Metzker & her sister-in-law, Monetta Smith Metzker, wife of Paul Frederick Metzker preceded Charlene into eternal life .
Charlene is survived by her husband, Carl Dean Kellogg from Garden Grove, CA, daughters and Son in laws, Elisabeth Jeanne "McVay" Bloss (Michael) of Lomita, CA and Dawn Louise "McVay" Hernandez (Mario Roy) of Buena Park, CA, three grandsons Michael Todd Scott (Mario Roy), Vernon Christopher Hart Jr. (Dawn) and Christian Liam Bloss (Lisa) and one granddaughter Lauren Louise Bloss (Lisa), Mother, Jeanne Margaret "Mohr" Metzker of Jonesboro, GA, brother, Paul Frederick Metzker, of Jonesboro, GA and brother John William Metzker (Rosiland),of Garden Grove, CA. Nephew Joseph Metzker (Paul) and niece Rachel Metzker (John).
Many cousins, friends and families of patients she touched during their loved one's transition into eternal life.
Charlene graduated from LBCC of Nursing and began her career in helping others with great compassion in all areas of nursing. Charlene continued her education at CSUF and received her BSN on May 27, 1984. Our "Sunshine", Charlene will be forever missed and never forgotten. AMEN.
Charlene's wishes are for her family, friends and the world to read, believe and follow the proverbs of the Bible. In lieu of flowers, donations are requested to the American Lung Association , American Cancer Association, to the National Hospice and Palliative Care Association and to the Garden Grove Church of the Nazarene in her memory.
Visitation and Services will be held on the grounds of Forest Lawn Cypress, CA. Visitation will be Sunday, February 16, 2014 from 10am to 9pm in the Hope Chapel-Funeral services will be held Tuesday, February 18, 2014 at 2:00pm in the Church of our Fathers.