Barbara (Pfeil) Sam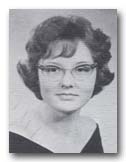 September 2, 1944 to April 20, 1977
Barbara's brother Michael writes:
Barb had such a kind sprit; we do miss her dearly. But, with joy we know that she belongs to Christ Jesus! From a very early age, she showed the spirit of Christ in her life and relationships. We look forward to the day that we will be able to live all eternity with her in Heaven!
I did attend RAHS (9th grade) and our brother ("Butch") attended 9th-11th. We moved to Palos Verdes in June 1963 and all but Barb attended Palos Verdes High School. Our dear brother Butch received Christ just days before he went Heaven at the age of 25.
"Remembering Barbara" by Jan (Sorensen) Tonner
Barbara Pfeil and I lost contact for a while after high school so I only know parts of her story. I remember going to visit her at her parents' house in Palos Verdes estates while I was living in Redondo Beach. I believe her mother was French. Her father was very friendly and outgoing. I think both her mother and father are deceased now.
In 1967 Barbara married Chhorn Sam - and they had a son, Robin. I believe they resided in Cambodia for a while and while there, Barbara taught French.
In 1977 Barbara was in a head on collision and was killed instantly.
I always thought of Barbara as nearly perfect. She was always pleasant and friendly, never judgemental, very intelligent, loved people, loved life, spoke many languages and sang like Judy Collins. She and her father used to sing duets. I still think of her often and miss her.